This article is more than 1 year old
Skype Classic headed for the chopping block on September 1
You will learn to love version 8, whether you like it or not
Windows users still clinging onto to the halcyon days of Skype 7 (aka "Classic") were warned last night to move to version 8 or face the service dying from September 1.
You read that right. While the rest of us look forward to a summer of frolicking in the sun or basking on beaches, a sad-faced Microsoft engineer will be introducing Skype 7 to a hastily dug hole in the ground.
Skype 8 for Windows desktop was launched on October 30 2017 for Windows 7, 8 and versions of Windows 10 prior to the 1511 November 2016 update. Mac and Linux users were also treated to the update.
It is safe to say the shiny new design was not appreciated by users, many of whom clung doggedly to the previous version, preferring features such as, er, multiple conversation windows over the emoticon fripperies of its successor.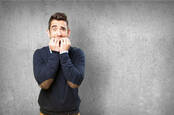 That terrifying 'unfixable' Microsoft Skype security flaw: THE TRUTH
READ MORE
Microsoft had a crack at killing off version 7 earlier this year, citing security concerns and urging users to move into the world of Skype 8. A few months later the unfixable flaw got fixed, and users were once again able to get their "classic" experience.
This time Redmond means it. In a blog post, the Skype team states that "only Skype version 8.0 will work after September 1, 2018", so holdouts will have to make the move or shift platforms.
The team went on to further justify the culling: "This is done to ensure that all customers have the best possible Skype experience, and that there are no quality or reliability issues resulting from old technology and new technology interoperating." So there you go.
To be fair, aside from the jarring lack of multiple conversation windows, Skype 8 has most of the features present in the previous version such as screen-sharing, HD video calls and file sharing. @-style mentions to attract the attention of conversation participants also makes an appearance.
Skype 8 will also soon see features such as call recording rolling out in the summer, and lucky iPad users will also be able to get their hands on the v8 experience.
Updating is simple. Skype "Classic" users will likely have been nagged about it in the app itself, or can simply download the update. Microsoft promises that contacts and conversation history will all be preserved, although you'll only be able to see the last year's worth of chatting in the app itself. Anything older needs to be exported.
It seems the update fairy giveth and taketh away. For Skype, alas, the latter is the case as some existing functionality is sacrificed on the altar of a Windows 10-alike single window experience. ®