This article is more than 1 year old
TalkTalk shrugs off moaning customers to claim 80,000 more
Back in black
UK comms provider TalkTalk grew its customer base by a net 80,000 in the first quarter of FY19, the company said in a trading update today. 2.1 million subscribers are now on fixed-price plans.
Guess who's still most moaned about UK ISP... Rhymes with BorkBork
READ MORE
"We saw excellent growth in wholesale, offsetting a modest decline in retail," said chief exec Tristia Harrison. Churn rate was up a little, to 1.28 per cent. TalkTalk averaged 1.22 per cent churn in FY18.
TalkTalk announced plans to discontinue its mobile platform in September last year, saying it was going back to its roots and focusing on broadband as part of a shake-up following founder Charles Dunstone's return as chair after chief exec Dido Harding quit last year.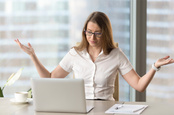 Typical cynical Brits: Broadband speeds up, satisfaction goes down
READ MORE
TalkTalk claimed 67,000 additional subscribers to its part-fibre broadband, although it didn't break out numbers for its full-fibre FTTP offerings. The network said it has 53,000 business Ethernet and first mile (EFM) connections.
TalkTalk has committed to spend £1.5bn on full-fibre FTTP gigabit connections to reach 3 million premises – but didn't use the opportunity to give numbers. It merely said that "we continue to make good progress on our plans" for full fibre.
The company has shelved plans to flog off its B2B group Daisy.
Headline revenues rose to £382m year-on-year, an increase of 4.1 per cent. Consumer, wholesale and direct B2B broadband - making up £309m of this number - was up 3.7 per cent year-on-year "driven by a larger average base", the firm said. The company added it had also experienced a "moderate" average revenue per user decline, though it did not quantify this.
Shares jumped on the prediction that TalkTalk would add 150,000 net users this year, and expected profit to grow 15 per cent. ®