People hate hot-desking. Google thinks they'll love hot-Chromebooking
Especially sysadmins who want to get off the fix-this-PC-now treadmill
---
Google thinks the time has come for widespread adoption of PCs-as-a-service, so has offered up its own experience as an exemplar how to get it done.
The company's explained that it operates a "Grab and Go program" that sees it offer racks full of Chromebooks. If a worker's machine breaks, they just grab a new one from those racks, log in and get back to whatever they need to do.
Google's keen on this model as it frees IT staff from having to fix things ASAP to ensure workers are productive. And it means workers just swap machines rather than wait for a fix.
None of this happens if data is local: Google assumes you're using a cloud for data and to manage users, plus Chromebooks and Chrome Enterprise.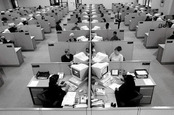 Open plan offices flop – you talk less, IM more, if forced to flee a cubicle
READ MORE
"We've deployed Grab and Go in many of our offices around the world, and the program has seen more than 30,000 unique users rack up more than 100,000 loans in the last year," wrote IT operations manager Russ White. "In fact, our Grab and Go program administrators estimate that their initial investment in deploying the program paid for itself in productivity time saved after only 50 days."
White's post doesn't address the extra capex involved to buy the spare Chromebooks in those racks, or that the devices don't natively run lots of enterprise apps. He does, however, point out that Citrix and VMware are Chromebook-friendly, so can deliver such apps. He also suggests Grab and Go for "workers who travel between office locations, or frequently work outside the office and need both a work and home device." He also said workers "who only need devices for short periods of time—such as for training or sending emails" can benefit from Grab and Go.
Google's created a guide (PDF) to Grab and Go for your reading pleasure and also promised a helping hand to those who want to follow its lead, or deliver a Grab and Go service to their clients. ®