Boffins mix AI and chemicals to create super-fast lab assistant
Faster than human boffins, and hopefully more reliable
Machine learning can help robots perform chemistry experiments faster than fleshy boffins, according to research published in Nature.
Researchers have been exploring how algorithms can predict the outcome of chemical reactions for a while, but this project goes one step further and actually uses a real robot to carry out some of the experiments.
It doesn't look anything like what you would imagine. There is no humanoid robot on wheels zipping around a lab, or a mechanical arm swishing beakers of colourful liquid. It's a system that contains a series of pumps and reactors all attached to a mass spectrometer, a nuclear magnetic resonance (NMR) spectrometer, and a infrared spectrometer.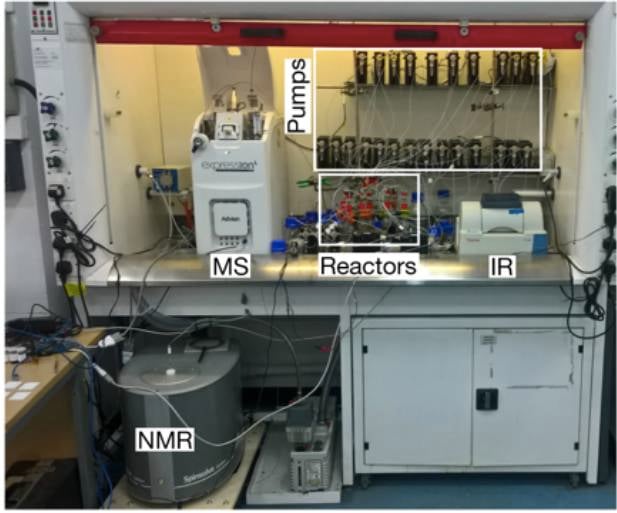 Picture of the robot chemist system split into different components. Image credit: Lee Cronin et al.
The pumps contain samples of the chemicals to be mixed, the solution is then fed into reactor flasks, and sent to the all the different types of spectrometers to be analysed. It's nothing too fancy, and most of the hard work is done by the machine learning algorithms behind the robot.
The system determines if a chemical reaction has occurred or not, scoring it as a zero for non-reactive, and one for reactive. The machine studies the information from the different spectrometers to see if new molecules have been forged.
Training the technology
The model was trained on 72 reactive and non-reactive mixtures from known chemical reactions classified by human chemists. A team of researchers from the University of Glasgow built a neural network and trained it on 3,456 reactions, 576 reactions were held back for validation, and it was tested on 1,728 reactions.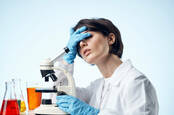 AI augments humans to lead them through the (protein) crystal maze
READ MORE
It's pretty accurate, and can predict if a chemical reaction will take place about 86 per cent of the time, according to simulations. After this stage, the robot can then begin performing some of the reactions chosen by the algorithm.
The system saves time and energy by helping chemists discard pointless experiments that probably won't result in anything useful. It can also give them hints to what reactions they should explore to find new molecules for drugs, dyes or new materials.
"By realizing only 10 per cent of the total number of reactions, we can predict the outcomes of the remaining 90 per cent without needing to carry out the experiments," the paper said.
The robot system can perform up to six experiments at the same time and up to 36 experiments in a day, compared to the three or four carried out by a human. It's an impressive number, but that doesn't mean it will replace professional chemists at all. It all hinges on human expertise to tweak the algorithms behind it and the AI is only as good as its trained to be. ®