Demonstrating that there is still life in the old dog, HP Inc has ripped the covers off a line-up of workstations aimed squarely at users seeking a lot more oomph from a smaller form-factor.
Rocking austere cases not usually associated with machines boasting serious GPU credentials, the additions to HP's Z range are designed for the likes of architects and engineers rather than gamers seeking to maximise their FPS.
Kicking off with the Z2 Mini G4 Workstation, which is a diminutive angular thing, HP is going for the strong, silent type rather than the 747-take-off usually associated with power workstations. HP reckoned the Mini is "whisper quiet" and sized to allow up to 56 of the PCs to be crammed into a standard 42U rack.
Doubling the graphical power of its predecessor, HP will fit it with a Nvidia Quadro P620 or P1000 GPU depending how flush you're feeling. HP will also crowbar in an AMD Radeon Pro WX4150 if that's more your thing.
For those that think a bit bigger, HP has also launched a small form-factor workstation in the shape of the Z2 SFF G4 Workstation. This beast adds on 50 per cent more processing power from the previous generation and offers users a bunch of PCIe slots for more exotic display hardware if that Nvidia Quadro P1000 just isn't enough. Dual M.2 slots deal with storage needs.
Rounding out the Z2 updates is what HP is modestly calling "The World's Most Powerful Entry Workstation". Shrunken by 13 per cent from the last generation, this beast will take an Intel Xeon (or a Core, if Chipzilla's premium silicon is a bit too pricey) and boasts a 60 per cent jump in graphics performance thanks to the Nvidia Quadro P5000 GPU.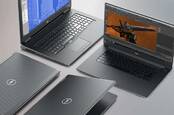 Who fancies a six-core, 128GB RAM, 8TB NVMe … laptop?
READ MORE
Finally, the EliteDesk 800 Workstation, while not meriting a "Z2" tag, has also been announced. The corporate chassis is a little more conventional than its brethren, and the Nvidia Quadro P400 GPU is not quite in the same league as the Z2 stablemates (although HP will fit a 1080 GTX card if that's more your thing).
HP is, of course, not the only game in town. Dell's Precision range of workstations, starting with the modest 3000 series, powered by Intel's integrated graphics as a starting point, is equally austere in its styling. Although rather than a bunch of mini workstations to cram in a rack, Dell will cheerfully sell you a 2U sized unit if towers aren't your thing.
Dell is also rather proud of its mobile workstations, for developers with better defined biceps than your average Virtual Reality designer.
Apple fanbois, still wedded to 2013's trashcan Mac Pro, prefer not to mention the word "workstation" unless it is followed by "there'll be a new one in 2018. Tim promised."
HP intends to start shipping its new toys in the next month or so, with the Z2 systems starting at prices just shy of $800. However, models with high-powered Quadro GPUs won't be troubling that price point, and customers should expect to pay a lot more once options are specified to make them usable for serious graphics productivity.
For those that can make do without the Z2 name, the Quadro P400 incarnation of the EliteDesk 800 will start at a very precise $642. ®