Big(ish) Blue: IBM sales creep up four per cent, share price follows suit
Cloud and security big winners in Q2 while Cognitive sags
IBM is touting the growth in its "strategic imperatives" business lineup with helping its revenues once again gain over the year-ago quarter.
It wasn't all great news for Big Blue, however, as other favored businesses such as Cognitive Solutions and Technology Services and Cloud were flat or down from the year-ago period.
For the Q2, FY 2018:
Revenues of $20bn were up 4 per cent from $19.3bn last year, rising by 2 per cent in constant currency.
Net income of $2.4bn was up 3 per cent from $2.33bn last year.
Non-GAAP Earnings per share of $3.08 were up 5 per cent and better than the $3.04 analysts had forecast.
Strategic imperatives (the group of business IBM says it wants to build around) saw revenues of $10.1bn - more than half its total haul - and up 15 per cent from Q2 2017.
Cognitive Solutions (the brand that includes Watson) saw revenues of $4.6bn flat year-to-year and down 1 per cent in constant currency.
Global Business Services logged revenues of $4.2bn, up 2 per cent but flat in constant currency.
Technology Services and Cloud revenues were $8.6bn, up 2 per cent and flat in constant currency. Much of the gain was thanks to cloud, where revenues were up 23 per cent, and Security, where revenues soared by 81 per cent over the year-ago quarter.
Systems revenues of $2.2bn were up 25 per cent, thanks to strong Z and Power Systems server sales.
Global Financing revenues of $394m were down 5 per cent.
While low single-digits growth would seem modest at first blush, it is a very good sign for a company that not long ago was on its 22nd consecutive quarter of revenue decline. Not surprisingly, execs wanted to talk up the areas of IBM's business that were turning things around.
"We delivered strong revenue and profit growth in the quarter, underscoring IBM's progress and momentum in the emerging, high-value segments of the IT industry," CEO Ginni Rometty said in a canned statement.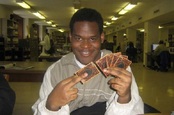 You just activated my battlecard: How IBM sales droids plan to whack flash array rivals
READ MORE
"More clients are engaging IBM on their journey to the cloud, and deploying IBM Cloud, Watson AI, analytics, blockchain and security solutions."
Likewise, CFO James Kavanaugh heaped credit for the solid quarter on the recent efforts IBM has made to shake up its business and refocus on areas such as cloud, which had strong quarters. "This reflects the work we have been doing to reposition our business in terms of our offerings, our people, and the way we work," he told analysts.
Meanwhile, on Wall Street IBM shares were up three per cent in after-hours trading at $149.02. ®