This article is more than 1 year old
Atos to hoover up US tech buzzword biz Syntel for $3.4bn
Buy bolsters firm's banking, finance and insurance bits
Atos has diverted attention from some cracks in its North American ops by making public its intention to spend lots of cash – a cool $3.4bn to be precise – to buy US-HQ'd tech services outfit Syntel.
Michigan-based Syntel sells a menu of cloud, mobile, analytics, IoT, and automation services, which also come peppered with DevOps and cyber security – a veritable buzzword bingo.
"It represents a transformational step for our Business & Platform Solutions (BPS) Division as it will significantly enhance its growth and profitability profile through an extended digital services offering, cutting edge India-based delivery platforms, as well as revenue and cost synergies," said Atos CEO Thierry Breton.
He talked up a "highly complementary portfolio, customer base and geographic footprint" of the combined entity to – wait for it – "accelerate the digital transformation of Atos's customers worldwide". Breton added that the buy will beef up its banking, finance and insurance customers.
Some 23,000 Syntel engineers will transfer to Atos, which projected revenue synergies of $250m by 2021 related to cross-selling US and Euro punters. Atos also expects to wring out $121m of annual "cost synergies" from general and admin "optimisation", ie job cuts, likely in the back office.
Founded in 1980, Syntel turned over $924m in sales in 2017, down 4.4 per cent on the prior year, and reported a net profit of $166.3m, a dramatic improvement on the $57.4m loss in 2016.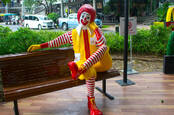 McDonald's tells Atos to burger off: Da da da da da, we're lobbing IT ...
READ MORE
Atos, ditched by burger flipping grease-monger McDonald's earlier this year as it tried to diversify its business, came close to buying ailing smart card maker Gemalto in December, only to be beaten by French aerospace and defence biz Thales.
The $3.4bn transaction represents a 14 per cent premium on Syntel's share price over the previous 30 days, and is expected to close by the end of the year.
As for Atos's results for the calendar first half of 2017, group revenues grew a reported 1.7 per cent €6.005bn, with BPS, and Big Data and Cybersecurity divisions motoring along nicely on the back of, er, digi transformation projects.
The relatively bulkier Infrastructure & Data Management unit "went backwards" 1.7 per cent to €3.613bn, Atos said.
"The decrease of the division was due to the specific management issue in North America," the company revealed. It didn't expand on this. Revenue in North America dropped 3.4 per cent to €967m.
That said, the book-to-bill ratio across the pond grew to 190 per cent on some large contracts signed, which should help oil the sales motion in the next half of the year.
Margins in North America fell to 9.3 per cent from 10.8 per cent due to sales shrinkage but the "majority was compensated by adjustments on the cost base", Atos said.
Net income for the group was €262m versus €249M in the prior year period. ®