This article is more than 1 year old
IBM wants everyone to marvel at the size of its Strategic Imperatives
But Wall St thinks mainframe is what's perking up numbers
The latest financial headlines emitted by the faltering enterprise juggernaut that is IBM indicate that its years-long efforts to turn a corner might be paying off, though not everyone on Wall Street agrees.
Big Blue last week reported a sales uplift of 4 per cent to $20.4bn for Q2 ended 30 June. This equated to a 2 per cent climb in constant currency (CC) and gave CFO Jim Kavanaugh something to shout about.
"This is our best constant currency growth in seven years," the delighted executive told financial analysts on a conference call.
The various business units perhaps told a different story when the benefit of a currency boost was extracted – not all parts of IBM were well oiled from a sales perspective, indicating it still has a job of work ahead.
The Cognitive Solutions division that includes Watson was down 1 per cent in CC to $4.6bn and below some analysts' expectations. Global Business Services was flat at $4.2bn; Technology Services and Cloud was also flat at $8.6bn, albeit better than expected; Systems leaped 23 per cent in a strong outing for Z and Power systems; and Global Financing fell 6 per cent to $394m.
Notable wins racked up in the three months included a $740m contract with the Australian government to digitise and automate services for Aussie citizens, and a Watson deal with Crédit Mutuel – the first financial business to buy into the deep-learning tech.
Big Blue also built and sold "the world's most powerful supercomputer" to the US Department of Energy, and scored cloud deals with ExxonMobil, Amtrak and Telefónica.
"In total we signed 13 services deals over a $100m this quarter," said the chief beancounter. "These are just a few of the new client engagement that will play out over the coming quarters and years."
Strategic Imperatives – the areas that IBM has bet its future on – moved the sales dial up 15 per cent. Analytics – led by the DB2 portfolio – jumped 5 per cent to $5.4bn, mobile was up 3 per cent to $1.3bn and security jumped 79 per cent to hit the $1bn milestone.
"Over the last 12 months, our strategic imperatives revenue has grown to $39bn, which represents 48 per cent of IBM's revenue. And within that, cloud is now $18.5bn," said the CFO.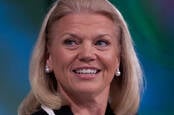 IBM turnover shrinks $28bn in 6 years but execs laugh all the way to the bank
READ MORE
Security was pushed along by "strong demand for the pervasive encryption of IBM Z and growth in our integrated software and services business," said Kavanaugh.
SaaS was up 18 per cent in the quarter, which ended 30 June, and IBM exited the period with as-a-service annual run rate of $11bn, which was up by a quarter from a year ago.
One quarter of improved growth for IBM does not equate to a long-term recovery, and there's still 52 per cent of the business that IBM classifies as outside its Strategic Imperatives.
Ironic then that, among them, big iron really came good for IBM and herein lies the rub for some in Wall Street. Toni Sacconaghi, analyst at IBM-watcher Bernstein, said sales outpaced his expectations and "100 per cent" of the beat was driven by mainframe.
"By contrast, revenues in other important areas (particularly Cognitive Solutions, and software overall) were weaker than anticipated."
The Q2 positives were that IBM surpassed sales forecasts by the Street, it made "good progress" on margin improvement and reaffirmed pre-tax income margins would expand.
"On the flip side, there were some disappointments: outside of mainframe, revenues were in line to lower than we had modelled. IBM backed away from its previous goal of 'flattish' gross margins for the year... and services signing grew 6 per cent versus our forecast of 10 per cent."
The gross margin backtracking was in spite of IBM reducing overheads to $6.42bn from $6.525bn due to reduced R&D spending (down 7 per cent to $1.364bn), and redundancies taken in the first half of the year, the financial benefits of which are expected to show up more meaningfully in the second.
Sacconaghi pointed out that mainframes are a cyclical biz in "slow, secular decline, and this year's strength will create incrementally tough compares – as will IBM's tax rate – for next year".
IBM paid 13.5 per cent tax rate, some $353m, in the quarter compared to 4.5 per cent or $111m in the year-ago quarter. This was driven by a discrete tax benefit a year ago, IBM said.
Mainframe hardware revenues specifically grew 112 per cent, Bernstein's man calculated, but excluding mainframes, IBM organic sales declined 0.4 per cent at CC. Sacconaghi said that without the mainframe upswing, Cognitive Solutions might have declined more dramatically.
He noted: "The company did not appear optimistic that Cognitive Solutions would grow in H2 (second half) 2018. Outside of Cognitive Solutions, transaction processing software and operating systems software were still stronger than history due to the mainframe cycle pulling forward software ELAs (enterprise licensing agreements)."
Global Business Services (GBS) – the professional services arm that comprises strategy consulting, system integration and application management services – and Technology Services (GTS), which encompasses management consulting and outsourcing, showed mixed signs of life.
GBS reported improved pre-tax margins (9.2 per cent vs 6.7 per cent) for the first time in four years. GTS, on the other hand, still missed expectations and margins have shrunk for 15 out of the last 16 quarters.
"Looking to the second half of 2018, we do see the possibility of further PTI (pre-tax income) for GBS (and to a lesser extent GTS), as IBM captures further cost savings from its $543m restructuring charge in Q1," said Sacconaghi.
IBM started laying off services staff in both GTS and GBS in a notable way some three years ago. It wanted to employ 20 per cent of GTS onshore, 20 per cent in near-shore locations, and 60 per cent offshore. HP, as was, did a spin merger with CSC for its outsourcing business, Enterprise Services (largely the old EDS crowd) and so solved that problem. The merged entity is called DXC.
Insiders at the company working in GTS suspect the same fate awaits them – that they too may be bought by DXC down the line – but this is presently just speculation.
Contrary to Big Blue's opinion, Bernstein said it thinks IBM's services signings were "weak", pointing out they grew 7 per cent as reported – not in CC – on an "easy compare of -17 per cent" a year ago.
"Overall, we believe the secular decline of Application Management Services (within GBS) and traditional outsourcing (GTS) continues to be a headwind for IBM's services business," said Sacconaghi.
"We note that prior to 2018, annual signings had declined for the last four years in a row. We continue to look for growth in signings – and particularly backlog – as leading indicators that services can turn the corner and grown again."
Services backlog declined 1 per cent in Q2.
The Bernstein analyst signed off by saying IBM's growth was "buoyed by a very strong mainframe cycle, not a turn in fundamentals (remember, revenues declined year-on-year in the quarter, excluding mainframes) – as a result, we do worry about decelerating revenue growth over the next few quarters, as IBM laps its current mainframe cycle and currency goes from a +5 per cent benefit to a headwind."
In the same conference call with analysts this week, Kavanaugh was asked by UBS about the impact of mainframe and if he expected that to continue in the second half of the year. He asked those dialled in to remember:
"It was our strongest constant currency revenue growth in over seven years. And it was led by our continued acceleration in our strategic imperatives which were up 15 per cent at actual, 13 per cent at constant currency. That was an acceleration from the first quarter.
"But even if you take out our Systems business and to your question around mainframe, and if we take mainframe out, you would see those same dynamics in the quarter-to-quarter acceleration of our Strategic Imperatives business."
Kavanaugh added that Big Blue had the "best breadth and growth across a number of countries" including Japan, the UK, Germany, France, Spain and Australia for "quite a period of time", and that these geographies are "not mainframe dominant, so we see continued momentum".
"Now, with regards to mainframe, I'm not going to apologise. This is the most enduring platform that you've seen out there, and we continue to capitalise on gaining new emerging workloads month onto that platform."
He said he expected mainframe demand to continue for the second half of the year.
Critics may say that mainframe is part of a decaying orbit, and that longer term it is yet another challenge for IBM to consider, as it balances those Strategic Imperatives with legacy tech.
However, IBM's story seems to be resonating with the money men on Wall Street: its share price at the time of writing is $149.24 (20 July), up from $143.09 before it filed Q2 financials. The company did reveal that it spent $1bn on share buybacks in the quarter, a strategy that was previously criticised. ®