This article is more than 1 year old
Official: AMD now stands for All the Money, Dudes!
Radeon and notebook surge brings best quarter in seven years
AMD is crediting the continued success of Ryzen and Epyc processors, and Radeon graphics chips, in fueling its best quarter since 2011.
The other-other CPU vendor turned in a massive Q2 FY2018 on Wednesday with big gains in both sales and net income. For the quarter, ending June 30:
Revenues of $1.76bn were up 53 per cent from $1.15bn in Q2 2017.
Net income of $116m brought AMD into the black from a $42m loss in the year-ago quarter.
Non-GAAP EPS of $0.14 compared to a loss of $0.01 a year ago and topped analyst estimates of $0.13.
Computing and Graphics group revenues were $1.09bn, a 64 per cent jump from Q2 2017.
Enterprise, embedded and semi-custom revenues were $670m, a 37 per cent year-over-year jump.
A drop in revenues from buyers doing stuff with blockchains – such as cryptomining – was noted from quarter to quarter, and AMD chief exec Dr Lisa Su admitted these numbers were lower than expected.
AMD says that, for the first time, Dell, HP and Lenovo are all offering its chips in both their notebook and desktop lineups.
"As expected, AMD had another solid growth quarter with 2nd gen Ryzen, Ryzen mobile, and Epyc all ramping strong, leading to an overall 54 per cent revenue gain," noted analyst Patrick Moorhead of Moor Insights and Research.
"Ryzen units grew double-digit sequentially and Ryzen mobile doubled sequentially. Radeon graphics sales were down driven by a decline in blockchain revenue, but in the grand scheme of things, not very large, a 4 per cent decline."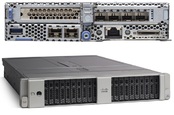 Cisco turns to AMD Epyc for the first time in new UCS model
READ MORE
While touting the solid numbers, Su painted a bright picture for AMD's near-term future, particularly the company's looming move to 7nm in both its CPU and GPU chips, set to begin later this year and continue into early 2019.
"We bet heavily on 7nm, we thought 7nm would be a big node for the industry," Su told analysts on a conference call.
"When you look at where we are today on the CPU side, we have the first silicon on our Rome products, it looks really good."
Su also said AMD will look to up its spending in the software space as it looks to squeeze more performance from its silicon.
"We have a lot of opportunity on the software side across CPUs and GPUs to accelerate some of our machine learning work," Su said, "and that is where incremental R&D would go."
Investors were enthusiastic about the soaring revenues, and AMD stock was up 5 per cent after-hours at $16.88 per share. ®