This article is more than 1 year old
Commvault results fail to excite, but Hammer says it's nailing the changes
Departing head talks 'lumpy' deals and channel dreams
Data protection outfit Commvault has revealed a deepening net loss of $8.6m on revenues of $176.2m, in Q1 FY'19 results described by Wells Fargo senior analyst Aaron Rakers as "underwhelming".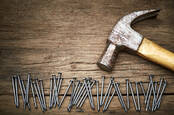 Painful Hammer blow: Commvault CEO ousted, costs and staff face cuts as financial figures falter
READ MORE
Those sales are up 6 per cent year-over-year on the prior Q1's $166m, but the $8.6m loss could be compared to $284,000 in the same period a year before.
"It is clear that the company continues to have execution/competitive risks," the analyst said.
Software and products revenue was flat at $75.1m. Services brought in $101.1m, up 11 per cent on last year. Commvault's subscription-based pricing model represented approximately 34 per cent of its software and products revenues, up 44 per cent on the year.
The results were also dented by $11.4m of expenses related to restructuring – there was a 6 per cent headcount reduction in the quarter – and a "non-routine shareholder matter".
Commvault is still looking for a new CEO after it agreed to change its chief executive, cut costs, lay off some folks, shake up its organizational structure, install two independent directors, and possibly buy back shares in May this year, in order to please activist investor Elliot management.
Last week the firm said it would prune its 20-strong product line into four "master" products.
On the earnings call, CFO Brian Carolan explained: "We... incurred $3.5m of costs related to non-routine shareholder matters. These costs are for professional fees related to the settlement agreement with Elliott Management and third-party operational consultant fees associated with the same such settlement agreement."
The product simplification and channel programme measures taken last week – Commvault Advance – involve a move to add mid-market customers, via distribution, to Commvault's previous enterprise focus.
The scheme should "deliver additional improvements in operating margins with Phase II cost reductions and pricing enhancements," said chairman, president and CEO Bob Hammer.
Commvault simplifies product count, condenses 20 into 4
READ MORE
"We are currently reliant upon a steady inflow of large six- and seven-figure deals, which come with additional risk due to their complexity and timing... Large deal closure rates will likely remain lumpy, particularly in the near term."
Some sales people will now switch from direct sales to channel enablement. Hammer admitted: "There are pockets of this company where sales execution has been poor. So you can blame sales but once you have your products and distribution in place, there's no place to go now."
The move to subscription pricing is a way of lessening large deal risk, but "it has negatively impacted near-term license revenue growth," Hammer said. "This transition will continue to have a dampening effect on revenue."
William Blair analyst Jason Ader commented that, with subscription pricing, Commvault will "get less revenue annually" but "more of a multi-year commitment".
Competition
Hammer mentioned two competitors in the earnings call. "Clearly the guys like Rubrik and Cohesity are making good solid gains in the market," he said, but claimed Commvault would "start taking the pole position relative to these new upstarts" with help from machine learning and AI.
Analyst Andrew Nowinski said: "Veeam just reported 20 per cent growth in the June quarter and it's at a similar scale now as Commvault. So is he making inroads in the enterprise space that you compete in? And could they be pressure on your revenue growth?"
Hammer replied: "I think all those companies put pressure on us. And that's why we need much more of the distribution, which we're getting. We don't lose to being head to head if we are there. We lose [to] any of these competitors... when we're not there and [where] we don't have the reach is when these competitors are picking up market share."
Outlook
Second-quarter revenues are expected to be $179m, up 6 per cent year-on-year. Commvault expects acceleration of top-line software revenues in the second half of the year. Total fiscal 2019 revenues are expected to be in the range of $745m-$750m, up 7 per cent year-on-year. ®