HPE has appointed a permanent president to its new hybrid IT business group, in the form of Phil Davis, who is currently the firm's global sales chief.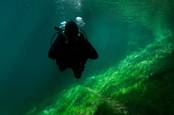 Public, private, hybrid cloud? Take a dip in our GreenLake HPE urges
READ MORE
Davis, who starts his new job on 1 August, was appointed "new global leader" for sales in November last year.
Having served as interim chief of the group since the beginning of this year, the "move" is more of a confirmation than anything else. The Hybrid IT group consists of three units: Hybrid IT Infrastructure, Software-Defined and Cloud, and HPE Pointnext. It also contains global ops and global sales.
Davis joined HPE in September 2014, having previously been veep and general manager of Dell's enterprise solutions division. His hiring, and the current reorg of the business, forms part of HPE's Next company overhaul plan, as The Register exclusively revealed here.
Meanwhile, Ana Pinczuk, boss at professional services division Pointnext, will leave Palo Alto, said HPE's boss. Chief exec Antonio Neri lamented: "Ana was exactly the leader we needed to drive our HPE Pointnext organisation as we pivoted the company to be services-led with a focus on consumption models and 'everything-as-a-service'."
HPE hatches HPE Next – a radical overhaul plan so it won't be HPE Last
READ MORE
Hybrid IT and Edge Computing represent two of HPE's big bets. It is spending $4bn in R&D on edge in the next four years. The Hybrid IT division's revenues made up $6bn of the $7.5bn the company netted for the most recent quarter, Q2 of fiscal '18, up 7 per cent year over year, or 4 per cent when adjusted for currency. ®