This article is more than 1 year old
NXP becomes N-nixed-P, Apple snubs Qualcomm modems for Intel chips
Shareholders, here's thirty billion dollars so you feel better on double whammy Wednesday
Qualcomm has abandoned its long-planned, long-stalled $44bn acquisition of Dutch chip maker NXP Semiconductors – and in its place, Qualy today announced a $30bn share buyback.
That was part one of Qualcomm's double-whammy Wednesday. Here's the second-half: Qualcomm's chief financial officer George Davis said on a conference call with analysts that Apple will drop Qualcomm's Snapdragon cellular modems from upcoming iPhones in favor of using Intel's XMM modems.
Yes, those Intel modems – the ones Qualy this week claimed its own components beat hands down in terms of performance.
"We believe Apple intends to solely use our competitor's modems rather than our modems in its next iPhone release," Davis admitted on the call.
Thus, Qualcomm has given up gobbling NXP, however, it's now free to declare war on Apple and Intel, pitching its Snapdragon chipsets in Android devices against Intel's mobile broadband modems in iThings. Previously, Apple had used a mix of Qualcomm and Intel parts.
Nixed-XP
In a statement today [PDF], Qualcomm CEO Steve Mollenkopf said: "We intend to terminate our purchase agreement to acquire NXP when the agreement expires at the end of the day today, pending any new material developments. In addition, as previously indicated, upon termination of the agreement, we intend to pursue a stock repurchase program of up to $30 billion to deliver significant value to our stockholders."
In abandoning the NXP deal, there'll be a $2bn windfall for the semiconductor maker, which Qualcomm said it will pay in cash and securities.
The proposed acquisition, announced in October 2016, was initially waved through by regulators in America, and green-lit by Europe after Qualcomm made concessions relating to standards-essential and NFC patents.
China dragged its feet on approval, however, and the escalation of President Donald Trump's trade war with the Middle Kingdom made approval increasingly unlikely. The only "new material development" that could save the deal, Mollenkopf said, would be if China OK'd the acquisition before the end of Wednesday, a "political window" he doesn't believe will stay open.
"It's very clear to us that the macro environment was … very difficult … and it's not clear that is going to change in the future," he said.
Mollenkopf added that in the 21 months since the deal was tentatively inked, Qualcomm has made its own forays into markets including the Internet of Things and automotive that attracted it to NXP in the first place. In other words, it doesn't need the Dutch after all.
Farewell Cupertino
Mollenkopf didn't rule out the possibility that Apple might return to its Snapdragon modem parts in the future. However, for now, Qualcomm and Apple are pretty much at war. The two remain locked in ongoing patent disputes, and in the Q3 financial earnings call today, Davis said Qualcomm is seeking injunctions in China against Cook & Co.
In spite of this multi-front battle, the tech giants remain in talks that could resolve their differences, Qualcomm officials said.
With so much drama, the company's financials are fairly unremarkable: the three months to June 24, 2018 turned in revenue of $5.6bn, up by 4 per cent over Q3 2017, and net income of $1.2bn, up 40 per cent.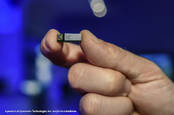 Psst, says Qualcomm... Kid, you wanna see what a 5G antenna looks like?
READ MORE
The QTL licensing business was hit by Qualcomm's licensing dispute with Apple: "We did not record any QTL revenues in the first nine months of fiscal 2018 or the third or fourth quarter of fiscal 2017 for royalties due on sales of Apple's products," the San Diego-based giant noted.
"We expect the actions taken by these companies will continue until these disputes are resolved. QTL revenues in the third quarter of fiscal 2018 included $500m paid under an interim agreement with the other licensee in dispute."
The biz said it is optimistic about coming 5G rollouts, saying its work on 5G electronics put it in a good position as the market develops. ®
PS: Facebook stock fell 20 to 25 per cent today in after-hours trading after disappointing investors with its latest financial results.