BBC websites down tools and head outside into the sun for a while
Auntie's outage comes on predicted hottest day of the year
---
The entire BBC website (less iPlayer) went down briefly this morning.
Auntie's online offerings, ranging from free online news to telly and radio listings, recipes and educational content for kids, were all briefly offline.
All the BBC's sub-sites were throwing up HTTP 500 errors, complete with a nice little graphic of the BBC test card doctored with a burning background. A reference to the scorchio Great British Summer, perhaps?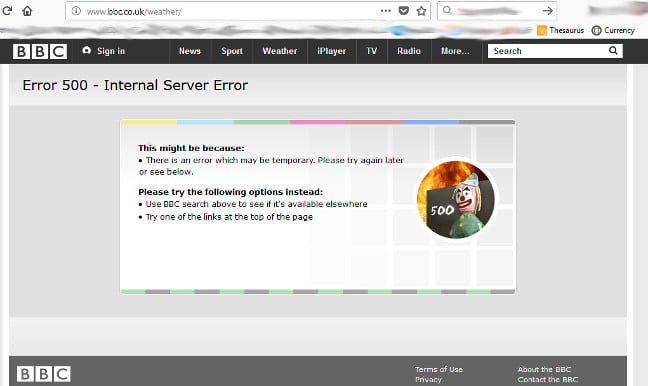 Screenshot of BBC website returning HTTP 500
As Reg readers will know, HTTP 500 is the code for an internal server error.
The Beeb press office told us they were "aware of this" outage and added: "We're aware that some people are having problems accessing some parts of our website. We're trying to fix this as soon as possible."
We were told it would be back up in "15 minutes or so" around 15 minutes before publishing this, a remarkably accurate prediction.
The only other Beeb-flavoured online thing accessible from Vulture Central this morning was iPlayer.
Three years ago the BBC's web presences did more or less the same thing. The corporation declined to say what caused it beyond an "internal system failure". We're looking forward to hearing more detailed information this time round. ®