Big Switch pokes a straw into the cloud, sucks its netops onto the premises
You too can have your very own network-as-a-service
What's missing from Virtual Private Clouds? According to Big Switch Networks, it's an on-premises implementation.
Sure, Google might have just told the world about its upcoming on-prem Kubernetes alpha, AWS is throwing its Snowball appliance over the fence, and Microsoft's gently extending Azure's on-premises abilities, but all those containers still need a network.
That's the door the open software defined networking (SDN) company hopes to open with the Cloud-First Networking (CFN) portfolio announced at the end of last week. It wants netops to switch from buying proprietary hardware and trying to make it play nice with public clouds, to building their on-premises networks with tools similar to those that network big public clouds.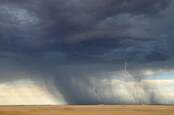 White box, anyone? Big Switch pumps Big Cloud Fabric updates as pretty Big Deal
READ MORE
The CFN's Enterprise Virtual Private Clouds (VPCs) correspond to Google and AWS VPCs and Azure vNets, letting enterprise admins treat networking as an "as-a-service" operation, whether in the cloud or the data centre, Big Switch Networks said.
The combination of Big Switch's VPCs with automation and flow analytics mean admins get an environment where it's easy to configure things like new network segments, which the company says can be difficult and prone to mistake on traditional network switches.
Logical networks can span private and public clouds, with the same hardware running multiple multi-tenant networks if needed, and SDN support so they can be reconfigured on-the-fly.
Having the private-public cloud networks tightly integrated makes it easier to give the data centre end of the hybrid cloud the kind of elasticity and overflow capacity customers of public clouds get, the company added, "without having to manage multiple architecture teams, multiple operations teams and multiple designs".
The capabilities are delivered in a slew of new products and product upgrades.
Big Cloud Fabric – Enterprise Cloud gets enhanced with Intelligent VPCS to provide on-premises logical networking; and VPC Automation for VMware, Nutanix, Red Hat, HCI, Kubernetes/Docker containers, and OpenStack.
Big Monitoring Fabric-Enterprise Cloud (BMF-EC) gets new VPC-style flow analytics to generate, store, and visualise flow data on-premises, with monitoring for both on-premises and cloud workloads.
New launches supporting the strategy include the Multi-Cloud Director (MCD), providing the management and admin interface; the Big Cloud Fabric-Public Cloud (BCF-PC), to manage VPCs both in the on-premises and public clouds; and Big Monitoring Fabric-Public Cloud (BMF-PC), providing deep packet capture and flow monitoring using a VPC-based network packet broker in the public cloud.
Big Monitoring Fabric – Enterprise Cloud is available today, with the rest of the suite rolling out over the remainder of 2018. ®