Fancy a little TLC? WD woos data centre crowd with dual-port SAS write fiend
Big jump in write speed
---
As the world and their dogs' data centres continue to accelerate their take-up of SSDs, WD/HGST has fired a dual-port SAS SSD at them.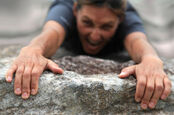 Two years and $19bn later: What happened to WD's SanDisk enterprise flash advantage?
READ MORE
The drive has up to 15.36TB capacity via 64-layer 3D NAND TLC (3bits/cell).
This 2.5-inch form factor SSD is a follow-on from last year's HGST Ultrastar SS300 and has been dubbed the DC SS530 (DC means it's a data centre-class drive).
WD has let its SanDisk-fuelled SSD market share slip back of late.
The capacity level varies with the endurance rating, and there are three of these – 1, 3 and 10 drive writes per day.
1 DWPD – 480GB, 960GB, 1.92TB, 3.84TB, 7.68TB, 15.36TB,
3 DWPD – 400GB, 800GB, 1.6TB, 3.2TB, 6.4TB,
10 DWPD – 400GB, 800GB, 1.6TB, 3.2TB.
We see a clear example here of the effects of over-provisioning to extend endurance.
The random read IOPS performance is up to 440,000; it was 400,000 with the SS300. The random write IOPS vary with the endurance level too, being up to 320,000 (10 DWPD), 240,000 (3 DWPD), and 190,000 (1DWPD).
It was up to 120,000 with the prior SS300 and there has been a significant boost.
The sequential read/write performance is irritatingly provided in MiB/sec and not the more usual MB/sec. We've up-converted to GiB/sec and GB/sec:
Sequential read – up to 2.15GiB/sec – 2.31GB/sec,
Sequential write – up to 2.1GiB/sec – 2.28GB/sec.
The SS300 had up to 2.1GB/sec for sequential reading and 1.25GB/sec when writing – again there has been a big jump in write speed.
The read/write latency similarly varies with endurance: 92/26μs (10 DWPD), 92/27μs (3 DWPD), and 92/36μs (1 DWPD).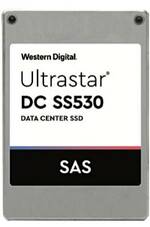 Some details: the SS530 has a five-year warranty and an 0.35 per cent annual failure rate (2.5 million hours MTBF). The dual-port SAS interface runs at 12Gbit/sec. There are three power modes: 9, 11 and 14 Watts.
On the security side options are Secure Erase (SE), Instant-Secure Erase (ISE) and Self-Encrypting Drive (TCG SED). Models with TCG SED plus FIPS 140-2 validation are expected to be available in the fourth quarter.
Samples of the DC SS530 are shipping to OEMs now. Check out a datasheet here (PDF).
With WD having 96-layer 3D NAND technology, we might expect the next generation of this drive to head towards a 30TB capacity level. ®