Ecuador's Prez talking to UK about Assange's six-year London Embassy stay – reports
Has never spoken to WikiLeaker, apparently
It would appear that the president of Ecuador is not a fan of Julian Assange.
Lenin Moreno, the head of the South American state since 2017, reportedly said today that he had spoken to the British government about the evidently unwanted Australian-born squatter, who has been hiding in the Ecuadorean embassy in London since 2012.
A British government spokesman told Sky News that Assange was not a topic of discussion during Moreno's most recent visit to Blighty. At a recent event in Madrid, the Ecuadorean president was quoted as saying: "I have never been in favour of Mr Assange's activity." He also reportedly commented that he had never spoken to Assange directly.
Assange, who used to run the American-state-secrets-blabbing WikiLeaks website, has been hiding inside the embassy since 2012 over fears that he might be kidnapped and sent to the US, where various governmental figures want to either imprison or execute him over his publication of stolen American diplomatic cables and other information.
His asylum at the embassy in Knightsbridge, granted by Ecuador's previous government, has cost the country somewhere in excess of $5m in security alone. Earlier this year embassy staff got fed up with the WikiLeaker's increasingly hostile tweets and cut off his broadband connection, saying that his social media activities had "put our good relations with the United Kingdom and the rest of states in the European Union at risk".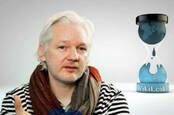 UK Foreign Office offers Assange a doctor if he leaves Ecuador embassy
READ MORE
Originally Sweden wanted to extradite Assange from the UK over sexual assault allegations, though that case has since met the Swedish statute of limitations and expired. Assange has publicly maintained that these charges were groundless and that the real reason for the extradition request was to get him into a country with few legal protections against onward extradition to America.
The UK still regards Assange as a wanted man for skipping bail, the penalty for which is a maximum of 12 months in prison and/or a £5,000 fine. He lost a legal bid to make this case go away too, with the Chief Magistrate commenting that Assange "considers himself above the normal rule of law" as she ruled that the arrest warrant against him remained valid.
WikiLeaks supporters maintain that Jules's health is deteriorating inside the embassy. While the Chief Magistrate accepted this in her February ruling, she dismissed the idea that he has no access to sunlight.
The British government has tried to coax Assange out of his hidey-hole by promising him access to a doctor – presumably in the back of a police van as he gets driven to court to answer for his breach of bail. ®