You lead the all-flash array market. And you, you, you, you, you and you...
But uh-oh! Is that NetApp creeping up on Pure?
---
How is everyone doing in the all-flash array-flinging stakes? Well, you can call Pure Storage Mr Hugo because it's still the victor. Gartner's box-fillers have once again jammed seven of the makers into the top right-hand square in its yearly analysis.
NetApp, which was one of a group of three chasing Pure around Gartner's paranormal polygon last year, has jumped into second place.
HPE, another of the frontrunners, has taken a lead on IBM, which is ahead of Dell EMC. Michael Dell's company must be pleased that placement doesn't dictate market revenue share numbers, where it's on top.
The 2018 magic quadrant for solid-state arrays looks pretty much like 2017's with most vendors – seven – in the leaders' box and five spread around the other three quadrants. But this time NetApp has jumped into second place behind Pure.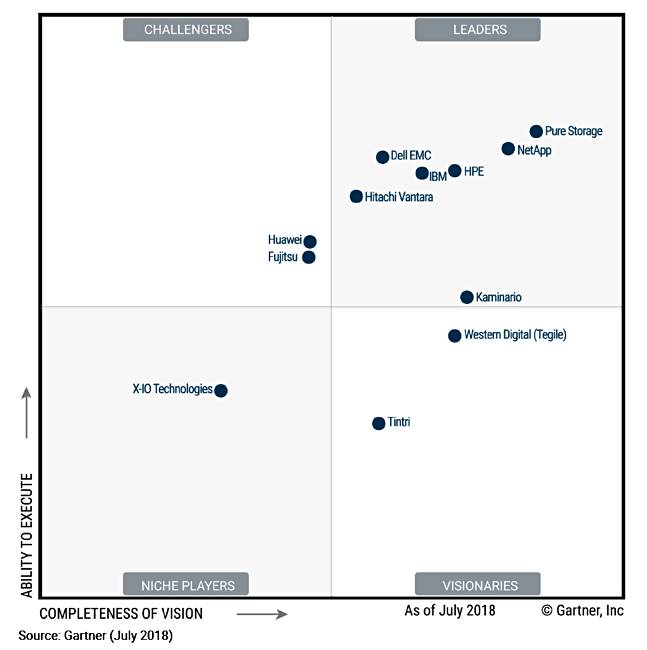 Here's last year's edition of Gartner's solid-state arrays supernatural square for comparison: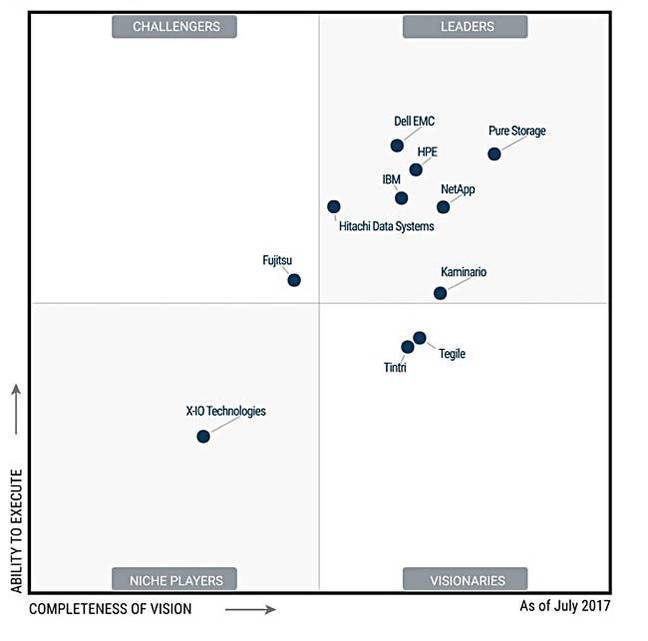 Gartner pointed out that it is too early to rate the recent Dell EMC PowerMax array with its deduplication, which the prior VMAX lacked, and NVMe technology. It noted that Dell EMC is still the largest supplier of solid-state arrays in the market, but its adoption grew at a lower rate than the market in 2017.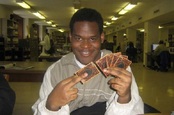 You just activated my battlecard: How IBM sales droids plan to whack flash array rivals
READ MORE
Another cautionary note is that the integration of EMC is still continuing, and it has disrupted sales and support relationships for existing and new customers.
Of Pure, Gartner said it has often set the pace and direction of the solid-state array market. This can be seen by its movement into a new area: ready-made solutions for AI with AIRI.
However, it only grew slightly faster than the solid-state array market in 2017. Pure hit profitability at the end of 2017, while also reaping $1bn in revenue.
Gartner suggested Pure still needs to increase its international presence and expand its business within key industry verticals, such as government.
Hitachi Vantara and Kaminario tail-end the leader box – the former ahead on ability to execute and the latter on vision. On Hitachi Vantara, Gartner said restructuring, rebranding and its overall change in direction has resulted in disruptions in customer sales and support relationships, and knocked customer confidence in Hitachi Vantara as a storage vendor.
The Gartnerites observe that Kaminario continues to grow its business in terms of revenue, and it successfully outperformed the market during 2017.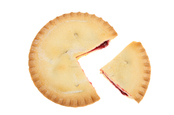 HPE and Pure Storage all-flash array market shares decline
READ MORE
Huawei makes its debut, taking up a position in the Challengers' box along with Fujitsu. Gartner noted that Fujitsu concentrates on the EMEA and Asia/Pacific (APAC) markets – EMEA being the largest with 60 per cent of all Fujitsu array sales, APAC with 35 per cent, and the Americas with only 5 per cent.
Gartner's view of Huawei is that, when selling outside China, it has been able to successfully leverage its reputation as a global supplier of telecommunication products to upsell its storage products in this vertical. It continues to increase its efforts to expand its reach into other geographies by partnering with system integrators, and distributors in all major regions.
But geopolitical challenges continue to impede Huawei's aspiration to enter the US market, which is still by far the largest consumer of enterprise storage.
X-IO Technologies survives in the Niche Players quadrant with Western Digital inheriting acquired Tegile's spot in the Visionaries' area. Tintri, now almost hors de combat due to Chapter 11 bankruptcy, has a ghostly place in the Visionaries' box too.
Gartner said that customer awareness of Western Digital as a solid-state array vendor lags behind the company's larger competitors. Also its IntelliFlash brand families do not currently offer a cloud gateway or interface to public cloud storage services.
Regarding X-IO, it said Toshiba will use X-IO's ISE array software on the Toshiba Flashmatrix, which is a good proof point for X-IO's array design and engineering skills.
X-IO continues to promote its Axellio product, which currently can be used as an integrated system, and has future use as a high-performance, low latency NVMe-based solid-state array. The company intends these products to be the impetus behind its appeal to cloud service providers, and also to focus on micro data centres at the edge. X-IO's customers are mainly in North America and APAC, with less than 10 per cent in EMEA.
Pure and Hitachi Vantara have complimentary copies of Gartner's quizzical quadrilateral report, though registration is required. ®