This article is more than 1 year old
Swan dive: Intel shares dip under interim CEO Bob as 10nm processor woes worry Wall Street
Chips not ready until 2H 2019, Epyc headache looms
Despite record-breaking earnings, Intel's shares took a modest dip on Thursday when the semiconductor behemoth reveal its financial results for the second quarter of this year.
Revenues for the three months to June 30 rose strongly, year on year, and profits were up 78 per cent. However, it's clear that the markets are concerned about the continuing problems Chipzilla is having getting its 10nm production processes up and running. Intel has now confirmed that the first 10nm chips for PCs won't be out in volume until the second half of next year and server products will take even longer. It previously hoped to get the parts out, in volume, sometime within 2019.
Nevertheless the interim CEO, and CFO, Bob Swan was ebullient about the company's performance. He predicted that the end of year results would break new records in Intel's money-making history.
"Our results in the second quarter were outstanding; a record quarter that we think will lead to a record 2018," he told analysts. "After five decades in technology Intel is poised to deliver its second year in the row of outstanding performance."
Here's a full breakdown of those results [PDF] that made him so happy, in GAAP figures:
Revenues: Intel pulled in $17bn in the second quarter, yet another new record for the company. That's up 15 per cent on this time last year and Swan said the figures would only keep on increasing in the short term.
Net income: Profits for the quarter rose 78 per cent to $5bn, or over $2.3m an hour. Operating income was up 37 per cent at $5.3bn.
Earnings per share: Bigger profits mean more earnings per share and Intel is giving shareholders $1.05 for their stock, an increase of 82 per cent.
Taxes and dividends: One of the reasons for Intel's massively increased profitability is the reduction in its tax bill. This time last year Intel paid a tax rate of 38.6 per cent, compared to 9.5 per cent in the last quarter. As a result Intel paid out dividends of $2.8bn and spent $5.8bn buying up its 117 million of its own shares.
Client Computing Group: PC sales actually picked up a tiny bit, as companies rip and replace older kit, Intel reported. But the PC side of Chipzilla's business rose just 6 per cent compared to the second quarter of 2017, with revenues of $8.7bn.
Data Center Group: While CCG revenues have traditionally been Intel's stalwart, it was DCG which showed overall growth of 26 per cent, pulling in almost $7.5bn in revenues. It's this division that Intel sees as its future for long-term growth. Intel's memory (NSG) and Internet of Things Group saw growth rates of 23 and 22 per cent respectively, pulling in nearly $2bn in revenues.
But once the prepared statements were done, it was clear where the interests of the analysts lay. The first two analysts to question the Intel team both had the same basic point – what is going on with 10nm and when can we see it.
Intel's chief engineering officer Dr Venkata Renduchintala confirmed that volume production of 10nm wafers won't happen until the second half of next year, hopefully before the main holiday season buying spree kicks in. Server-side 10nm hardware is going to take longer, he confirmed, but not that much longer.
"We feel very good about the product competitiveness of 14nm and that is factoring into our timing on 10nm, and we'll be launching it when yields are prime for volume production," he explained.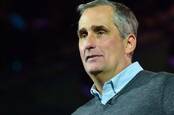 The strife of Brian: Why doomed Intel boss's ex86 may not be the real reason for his hasty exit
READ MORE
"In general we're going to see a much shorter ramp period [for server silicon], as we talk about client systems on the shelf by the second half of 2019 and we don't expect a long delay for server goods, and hope to reach parity of launch times in later technology."
Intel's research into reaching 7nm chip architecture is progressing well he said, but is still very much in the research and development stage. AMD, on the other hand, plans to ship 7nm silicon in volume later this year.
In the meantime Intel is confident its older 14nm silicon will keep sales buoyant, Renduchintala said. Better design has increased 14nm chip performance by 70 per cent, he claimed. But, with AMD's lower-cost Epyc server silicon starting to cut into Intel's server business, Chipzilla better get its skates on.
Intel's shares are down nearly six per cent at time of writing to $49.21 apiece. ®