Openreach annual review: Eat fibre and be merry, we fixed the faults before you called
The sun is sunny and the dark fibre access is virtual
---
Openreach claims it is now more independent of BT than ever before, adding that the UK's fibre rollout is going just fine and all ISPs are now very happy with the BT-owned telecoms infrastructure company.
This was the gist of its first annual review, issued to coincide with yet more central government pledges to extend broadband to every corner of the United Kingdom.
"Our FTTP consultation showed there was broad support for Openreach to start building a large-scale FTTP network in the UK, and it gave us – and BT as our parent – the confidence to accelerate our build plans by 50 per cent, targeting three million premises by the end of 2020."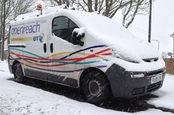 Small UK firms laying fibre put BT's Openreach to shame – report
READ MORE
It also said it had "halted and reversed a six-year rise in the total number of faults on our network. By investing more than £30m into proactive maintenance, we saved 175,000 engineering visits last year..." It went on to congratulate itself for doing what many hardworking Reg readers do every day and "fixing faults before our [CP customers] even reported them to us".
The infraco also says it has refined work on its alternative to giving providers physical access to dark fibre, which it calls Optical Spectrum Access (OSA). Openreach said its OSA product for ISPs, Filter Connect, "offers [telcos] all the key benefits of dark fibre – like the freedom to use their own equipment to control and increase bandwidth usage over our fibres, at no extra cost – but without compromising on the service and maintenance levels we can offer".
Openreach is keen to stress that it is growing in independence from its owner BT, out of which it was spun not so long ago, and says in its report that as a result of that it is "able to discuss and consider new business models, including co-funding opportunities" which could expand the network expansion even further. This appears to be a nod to the increasing number of small firms rolling their own fibre, cutting BT (sorry, Openreach) out of the picture altogether.
It even admits that "in the past we weren't as focused or proactive as we should have been in addressing what's important to our Communications Provider customers," something that will doubtless draw much joyful agreement from telcos such as Cityfibre, which has made no secret of its unhappiness with Openreach, and more recently its ambition to go head-to-head with the former state monopoly.
Openreach said its priorities for the next year would be hiring 3,500 new engineers and training them, as well as continuing to deliver the BDUK broadband rollout programme. In addition, it hopes to meet its contractual minimum service levels (i.e. SLAs with Ofcom) and make repairs 3 per cent more quickly than it does at present. The new universal service obligation means every UK household can request, by law, a 10Mbps broadband service from the end of 2020. ®