This article is more than 1 year old
This is the contract you've been looking for: Pentagon releases JEDI bids
Single-award contract could run for up to a decade, worth a possible $10bn
The Pentagon has finally opened the bidding for its major cloud contract, which could be worth some $10bn – and is to be awarded to one vendor.
Winning the Joint Enterprise Defense Infrastructure (JEDI) programme – which will cover all branches of the military and run for a maximum of 10 years – will be a major coup for any cloud vendor.
Pentagon CIO Dana Deasy described JEDI as a "pathfinder" that would be a "critical first step" in creating an enterprise-standard cloud environment within the department.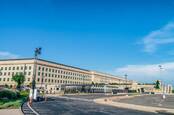 Pentagon on military data-nomming JEDI cloud mind trick: There can be only one (vendor)
READ MORE
However, the plans for the contract have met with controversy from vendors and tech lobby groups, who argued that handing the massive deal to one provider could damage innovation, competition and security.
There are also concerns that AWS, with its substantial government contracts, is a shoo-in, although competition is expected to include Oracle, IBM and Microsoft.
But, despite a delay of about two months – the request for proposals was originally due in mid-May – the Department of Defense stuck to its guns, and has now released a call for single-source award.
The reasons for this approach were detailed in a report sent to Congress, after lawmakers asked to see the Pentagon's working. This document has been published alongside the RFP.
It stated that pursuing multiple-award contracts would have slowed down the process, in turn slowing the Pentagon's shift to enterprise-level cloud computing and hampering its chance to use technology to its advantage.
The Pentagon also argued that most vendors would need to invest a lot to reach the military bar, and asking many to do so would have added expense to the department "without commensurate increase in capabilities".
It added that although data security within a cloud is "largely standard and automatic", managing this between clouds "currently requires manual configuration and therefore introduces potential security vulnerabilities, reduces accessibility, and adds cost".
Moreover, maintaining non-standardised infrastructure and platform environments across classification levels would complicate development and use of software applications, which could add delays and costs and prevent the creation of data lakes for machine learning.
Deasy emphasised these points in a letter to potential bidders, saying that the battlefield advantage is now a technological one; offered by access to large amounts of information at real-time and the power to analyse this quickly and make decisions at scale.
"The department needs an IT environment that allows for data-driven decision making; enables DoD to take advantage of our applications and data resources; and achieves economies of scale across our vast enterprise," he said.
"It is critical for the DoD to modernize quickly, while also changing the way it does business to keep that modernization moving forward at the speed of relevance."
The department has also been keen to emphasise that, although the contract could run for a decade – which would make it worth some $10bn – there are exit points built in.
This means that the minimum base period is two years, with a subsequent three-year option ordering period, followed by another three-year option ordering period and a final two-year period.
"The initial two-year base period of the JEDI Cloud contract allows for sufficient time to validate the Cloud's operational capabilities, DoD cloud migration processes, and the deployment of DoD enterprise-wide AI and ML applications," the department said in a report that was produced for Congress and has been published alongside the RFP.
"Option periods under the JEDI Cloud contract will be executed if doing so is the most advantageous method for fulfilling the DoD's requirements when considering market conditions at the time of option exercise.
"Regardless, DoD expects to maintain contracts with numerous cloud providers to access specialized capabilities not available under the JEDI Cloud contract, and to access Software as a Service (SaaS) capabilities."
The contract sets out line items for PaaS, IaaS and cloud support package are to be priced by catalogs from the competition, which the department said would allow competitive forces to drive the pricing – these catalogs will be incorporated at the contract award and cover the full potential 10 years.
In addition, there are clauses in the contract that would automatically lower the DoD's prices if the contractor's public commercial prices are lowered – this lower unit would then be fixed – which the DoD said would allow it to access the advantages of any downward trends in public cloud.
JEDI program manage Kaight Meyers added that offerors are not required to have accredited classified environments at the time of proposal. For unclassified services, the solution must be available and able to meet requirements within 30 days of the award; for Secret Level services, it is 180 days; and for Top Secret/Sensitive Compartmented Information and Special Access Program levels it's 270 days.
Vendors are able to submit written questions until 16 August, and can bid for a one-hour in-person Q&A with a Pentagon exec – to be held on 13, 14 and 15 August - by writing to the Pentagon by 31 July.
The deadline for applications is 17 September. ®