This article is more than 1 year old
Cheap NAND nasty: Flooding market with chips threatens prices
Risk of a flash glut rises as fab output increases
Analysis NAND oversupply is becoming a distinct possibility – with an increasing memory supply chasing a market that can't absorb all the bits and bytes at prices that provide profits for suppliers.
No NAND flash maker wants to create a glut, and each is convinced that they are behaving rationally – although, collectively, they are not. Yet time and time again in the memory (DRAM and NAND) industries profit-boosting scarcity has been followed by a loss-making glut. The lemmings know the cliff is ahead and steadily match towards it, as if doomed.
Three things create a glut: 1. over-supply, 2. a belief prices are stable when they are not, and 3. slumping demand.
Note, actual demand for bits and bytes may increase, but if it increases at, say five per cent a year, and the industry increases supply at 15 per cent a year, then, with that 10 per cent gap, there is a relative demand fall.
A NAND glut possibility occurs when customers need more flash bits, and these bytes are a commodity. You can't make them faster or more secure. All a supplier can do is make them cheaper by increasing the number of them on a wafer by, for example, shrinking their size, which is what happened with 2D or planar NAND, increasing the layer count in 3D NAND, and/or increasing the bit count in a NAND cell.
Both these two 3D NAND options are happening today, with 64-layer 3D NAND transitioning to 96-layer, and QLC (4bits/cell) being developed from the current TLC (3bits/cell).
The suppliers are seeing a long-term change taking place in the storage industry, as slow-access disk drive bits are dropped by customers in favour of much faster-access flash bits. Demand, they judge, is high and will stay high.
Manufacturers know that they best way for them to increase their market share, and hence profits, is to make flash at lower cost than their competitors, effectively meaning more bits per wafer and a lower price/bit.
General NAND price erosion is a fact of life but, the suppliers reckon, this is a stable decline and not a precipitous one.
Flash fab boom
As a consequence they are building more flash fabs that will significantly increase supply.
Intel set up a 3D NAND fab in Dalian, China, in late 2015, and is doubling its capacity for the end of 2018.
Samsung is increasing the output if its Chinese 3D NAND fab at Xi'an, China.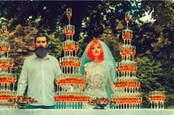 Toshiba and WD indulge in mutual 96-layer flashing: Two partners, two products
READ MORE
SK Hynix is building a new fab in Korea at Icheon, which should come on stream in 2020. It is expanding clean room space at two other Korean fabs; M14 in Icheon and another at Wuxi, in preparation for making higher layer-count 3D NAND chips.
The Toshiba Memory Corporation/Western Digital fab joint venture is developing 96-layer 3D NAND and with both also making QLC chips. It is also building a new fab in Kitakami, Iwate prefecture, Japan.
The two are also expanding an existing FAB 6 plant in at Yokkaichi, Japan, and that will enter operation in 2019.
China's Tsinghua Unigroup is developing its own 3D NAND fab, with Micron taking legal action over its flash IP which an intermediary, it alleges, has stolen for that plant.
Other Chinese NAND suppliers, such as Yangtse River Storage Technology, are also building fabs, as China strives for memory production self-sufficiency.
Seagate will start shipping SSDs using chips from the TMC/WD joint-venture fabs as a result of its participation in the Bain consortium TMC purchase.
Can the market absorb all the output from these plants?
One industry observer thinks that over-supply will take place, leading to steeper price erosion and a NAND glut.
DRAMeXchange pessimism
DRAMeXchange, a division of TrendForce, forecasts that "the ASP of NAND Flash will drop by around 10 per cent QoQ respectively in 3Q18 and 4Q18. Although 3Q18 heralds the traditional peak season for the sales of consumer electronics, the growth of the end-market demand has been weaker than anticipated. At the same time, the supply of 3D-NAND Flash continues to expand."
The division is already talking of persistent over-supply. It says the main reason behind the falling prices is oversupply at various levels.
Annual shipments for smartphones this year are expected to be just on par with last year's. The replacement demand for smartphones has been sluggish due to the lack of differentiation among products in terms of hardware specifications.
Notebook shipments were very strong in 1H18, so the seasonal shipment growth for notebooks in 2H18 may well be lackluster compared with the growth in the year's first half as the base period.
Although demand for server systems is growing steadily, there is an oversupply of server SSDs because too many suppliers are engaging in this profitable segment.
NAND Flash suppliers have raised their output forecasts as they have expanded their production capacity and improved the yield rates of their 64/72-layer 3D-NAND production.
These factors have led to a persistent oversupply, and contract prices of various NAND Flash products will remain weak through 2H18.
DRAMeXchange anticipates continuing price decline during the traditional slow season of 1H19. Because of the seasonal headwinds, shipment forecasts for smartphones, notebooks and tablets are fairly conservative for the first half of next year.
Also it says the transition to 96-layer 3D NAND is expected to increase the overall output and keep the market in oversupply.
The storage desk at El Reg thinks there is a risk that this over-supply could become an actual glut as the new and expanded fabs come on stream in 2019, 2020, and on to 2021. ®