Uh-oh-oh-oh-oh. Now hounds of storage are hunting – run if you know what's good for ya
The latest out of WD, Datrium and many, many more
---
Over the past week in storage, Gartner shifted the disaster recovery goalposts, Datrium realised its salespeople were in the wrong places, JetStream pressed eject and was spun out of Western Digital, there were some needful updates and refreshes ... and more. A heck of a lot more. So buckle up.
Buffalo brings Azure cloud to its NAS products
The NAS firmware for Buffalo's TeraStation 3010 and 5010 series has been updated to allow the devices to synchronise with Microsoft Azure cloud services.
With the update, TeraStation 3010 and 5010 series are capable of unidirectional synchronisation with Azure Blob storage. Users can choose between differential and incremental backup methods, and thus manage storage space.
Users can configure the synchronisation interval and whether versioning is enabled for Azure, and keep incremental versions of their files. Users also can choose whether files deleted from the NAS should be deleted from Azure or left in the cloud. More information here.
Firmware version 4.12 is available for free in the Support section on Buffalo's website.
Datrium shifts HCI sales crew to 'densest' parts of US
Seven months after announcing a doubling of its sales force, Datrium has decided to "rebalance" it to serve bigger and "denser" US regions, losing several staffers in the process.
Enterprise account exec Frank Politano has left the Florida area; principal systems engineer Will Crittenden has left from the Richmond, Virginia area; and senior account exec Jason Mitchell has departed from his perch in Salt Lake City.
The firm told us the lost headcount was being replaced: "Overall, we are continuing to grow our sales coverage consistent with our 2018 goals of doubling our US sales force, and further expanding our reach into large enterprises."
It did not break down the areas served or the numbers of staffers involved.
A Datrium spokesperson said: "We have rebalanced our sales focus to step up our attack on key tier 1 markets in North America, including New York, Chicago, Texas and Southern California. While we had some of the major markets covered today, we were underserving some of the biggest, densest regions. Along those lines, we have already added sales presence to the West Coast, Chicago and Toronto, and will further expand our coverage in key cities across the West, Central and East Coast."
Gartner DRaaS Magic Quadrant
Many vendors have been dropped compared to Gartner's DRaaS paranormal polygon last year. The analyst said this was "due to changes in the inclusion criteria". The individual reasons were either one or a combination of the following:
Direct sales were less than the inclusion criteria
The majority of existing customers had an annual revenue of less than $50m
The vendor did not have a large or focused enough DRaaS product
Existing capabilities were not repeatable and industrialised, as defined as the DRaaS market definition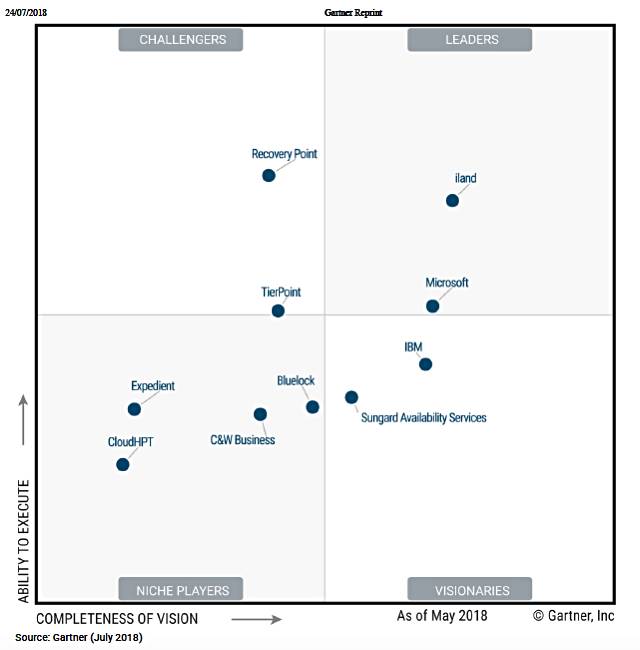 Gartner said the changes were to make the quizzical quadrilateral a better tool to assist end-user clients in evaluating DRaaS providers. The biggest changes for 2018 materialised in the form of evolved inclusion and exclusion criteria, and even greater emphasis on the "value for money" when it comes to support for heterogeneous platforms.
Acronis, Axcient, Carbonite, Daisy, Databarracks, Datto, Evolve IP, Flexential and Infrascale have been dropped.
Other notable vendors in DRaaS not included are NTT Communications, Quorum, StorageCraft and Unitrends.
JetStream Software spun out of Western Digital
FlashSoft was launched in 2010 as a provider of caching software products. SanDisk bought it in 2012 where it was distributed on an OEM basis by Dell. The software has been deployed in thousands of data centres globally.
At SanDisk, the FlashSoft team was VMware's design partner for the vSphere APIs for IO Filtering.
However, Western Digital bought SanDisk in 2016 and eventually decided it no longer wanted the business. It transitioned it back to being an independent startup, called JetStream Software, managed by the same group that founded FlashSoft. It provides support to the Dell FlashSoft customers.
JetStream is applying the vSphere APIs for IO Filtering background, and its expertise with non-volatile memory, to develop new products for cross-cloud data management.
Using VMware's IO Filters, it launched JetStream Migrate, for live migration of virtualized workloads to MSPs, earlier this month. It already has JetStream Accelerate for IO optimisation with non-volatile memory.
Co-founder and president Rich Petersen said capturing data in transit within the hypervisor is a better approach to cloud DR than snapshots. Cloud DR firms such as Veeam, Rubrik, and Zerto have already announced plans to shift from snapshots to IO Filters. JetStream Software is well down that road already.
Panzura and the Google Cloud Platform
Panzura has launched its Freedom Cloud NAS on the Google Cloud Platform Marketplace. It said Panzura Freedom replaces traditional NAS with infinitely scalable and durable cloud-attached storage (CAS) without sacrificing performance or rewriting applications running in the data centre.
Users can consolidate their machine-generated data, such as 4K video, 3D images, IoT data and other unstructured content, into the Google cloud.
Panzura Freedom and GCP also enable hybrid cloud storage capabilities including:
Running simulations and archiving data for financial services
Seismic data processing for oil and gas
Medical imaging storage and analytics for healthcare
Collaborating in real-time globally on large CAD/CAM projects
EDA simulations for engineering
Find out more here.
Radian 12TB SSD
Radian Memory Systems has released an Open-Channel 2 (OC2) compliant Flash SSD in a 2.5-inch U.2 form factor with up to 12TB of capacity. Radian said its RMS-350 SSD has highly parallelised, deterministic I/O while minimising tail latencies for data centre workloads. It includes support for Cooperative Flash Management (CFM) based on Radian's Symphonic CFM technology or Radian's implementation of the new Open-Channel 2 interface.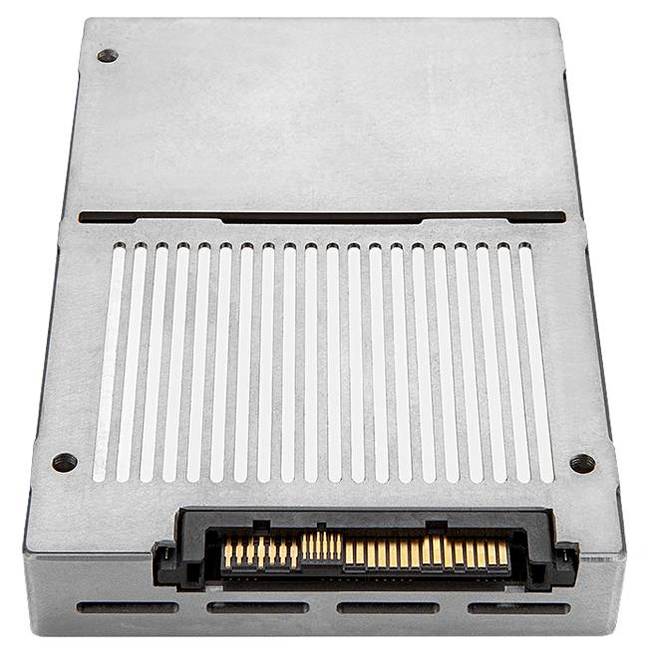 Radian 350 SSD
It's available in 3TB, 6TB, or 12TB capacities, along with 4GB or 12GB of PMR style User NV-RAM. The NVMe PCIe Gen3 interface supports dual port 2x2 or single port x4 lane configurations. The drive's enterprise class TLC (3bits/cell) 64-layer sD NAND (eTLC) is supported by an LDPC error correction engine.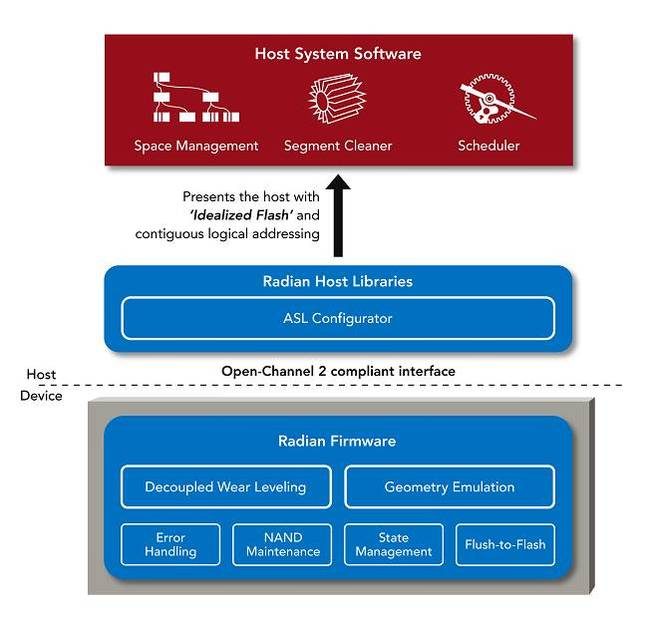 The NV-RAM provides functionality similar to an onboard NV-DIMM-N, but unlike a NV-DIMM, scales with flash capacity as drives are added to a system, and does so without cabling to remote capacitor packs. This NV-RAM appears as an independent NVMe block device that can be accessed via NVMe, or memory mapped (mmap) as byte accessible (dword) memory for Programmed I/O (PIO).
RMS-350 evaluation units are available now to select customers and general availability is scheduled for autumn 2018. Radian Memory Systems will be exhibiting at the Flash Memory Summit on 7 August.
RoCE, iWARP and the SNIA
Remote Direct Memory Access (RDMA) supports zero-copy data transfers by enabling movement of data directly to or from application memory. This results in high-bandwidth, low-latency networking with little involvement from the CPU.
An upcoming SNIA webcast looks at two commonly known RDMA protocols that run over Ethernet: RDMA over Converged Ethernet (RoCE) and IETF-standard iWARP. Both reduce the amount of CPU overhead in transferring data among servers and storage systems. They are used in the NVMe over Fabrics storage access scheme, as well as other alternatives. The webcast will provide a solid foundation on both RDMA technologies in a vendor-neutral setting that discusses the capabilities and use cases for each. It will aim to provide answers to five questions:
Both RoCE and iWARP support RDMA over Ethernet, but what are the differences? 
Use cases for RoCE and iWARP and what differentiates them?
UDP/IP and TCP/IP: which uses which and what are the advantages and disadvantages? 
What are the software and hardware requirements for each? 
What are the performance/latency differences of each? 
The webcast takes place on Wednesday, 22 August, 10am PT, 1pm ET, and the presenters are Tim Lustig, Mellanox; Fred Zhang, Intel; and John Kim, Mellanox. Register here.
SK Hynix results
For its second 2019 quarter, which finished on June 30, Korean memory chip maker SK Hynix reported record revenues of $9.52bn, and a rise of 55 per cent year-on-year. There was a record net income of $3.83bn, up 75 per cent on the year.
DRAM bit shipments were up 16 per cent compared to the previous quarter with the average selling price (ASP) up 4 per cent.
NAND bit shipments increased 19 per cent quarter-on-quarter but the ASP went down by 9 per cent due to general industry supply growth. It is currently shipping 72-layer 3D NAND.
SK Hynix building new memory fab
SK Hynix will build a new 53,000m2 fab in Icheon, Korea, with a $3.12bn investment. Ground will be broken later this year and the plant should be completed in October 2020.
SK Hynix has an existing M14 fab in Icheon and one at Wuxi, where the cleanroom space is being increased. It is also building another plant at Cheongju.
The Wuxi cleanroom expansion and the Cheongju fab should be both completed in the second half of 2018.
Veeam
The hyper-availability software provider has announced Veeam Backup for Microsoft Office 365 version 2, one of its biggest product launches of the year.
The firm said that IT folks can back up Office 365 to on-premises or to the cloud with Microsoft Azure, Amazon AWS, IBM Cloud, and over 18,000 service providers.
It provides:
Enhanced Protection of Office 365 data – protecting from accidental deletion, security threats and retention policy gaps (this includes protection for Exchange Online, and now OneDrive for Business and SharePoint)
Restoration of individual Office 365 items and files
Meeting of legal and compliance requirements  
Three main new elements are:
New data protection for OneDrive for Business – backup of Office 365 OneDrive for Business accounts with the ability to restore and export files and folders
New data protection for SharePoint – so IT can back up SharePoint Online and SharePoint on-premises, providing recovery options to restore SharePoint sites, documents, libraries and lists with Veeam Explorer for Microsoft SharePoint
A newly redesigned job wizard provides a selection of Exchange Online, OneDrive for Business and SharePoint Online objects
Veeam is also releasing Veeam Backup for Microsoft Office 365 Community Edition. This new edition provides access and control of Office 365 data for free, with functionality identical to that of the paid version, but is limited to 10 users and 1TB of protected SharePoint data. Download it here.
Customers
UK property development business Henry Boot has bought two Arcserve Appliances for its two head offices. Together, they protect 145TB of data (reduced to 28TB and replicated between the sites).
RadixCloud, a Switzerland-based CSP serving 18 countries, has deployed Asigra Cloud Backup Evolved (V14) to support businesses throughout Europe and the United States.
Edwards, a vacuum and abatement systems business, is using the MapR Data Platform to analyse data from its equipment within customer sites to deliver predictive maintenance and near real-time anomaly detection. Edwards maintains 30 international sites, employing over 4,200 staff serving all major global semiconductor manufacturing customers.
Data visualisation company Atheon Analytics is using Snowflake's data warehouse-as-a-service to supply real-time insights to UK supermarket suppliers, to identify service issues, stock needs, and quantify the impact on waste and sales across its customers' entire supply chain.
It previously used Microsoft's SQL Server and Exasol.
The UK's AGS Payroll Services is using Storage Made Easy's Enterprise File Fabric platform with UK hosting provider Memset's UK based OpenStack infrastructure offering to securely share confidential files containing sensitive data with their customers.
Shorts
BackBlaze announced an update to Backblaze Online Backup: Version 5.3. This small release improves stability, security, and how Backblaze handles systems without a lot of RAM. It also signals the beginning of the end of support for a few older operating systems: Mac OS X 10.5, 10.6 and 10.7, Windows XP and Windows Vista.
A 2018 Data Exposure Report, commissioned by Code42, found 72 per cent of CEOs admit they've taken valuable intellectual property from a former employer. Additionally, 93 per cent of CEOs said they keep a copy of their work on a personal device, outside the relative safety of company servers or cloud applications. Yet 78 per cent of CEOs agreed that ideas, in the form of IP, are still the most precious asset in the enterprise, showing a disconnect between what executives say and do. Obviously the CEOs need to buy Code42 products at once.
Data protector and manager Druva announced the integration of Druva CloudRanger with the Druva Cloud Platform (DCP). The DCP unifies Druva's products and provides a single point of management that enables organisations to centrally protect, manage and gain visibility into their entire data footprint. With this integration Druva builds a bridge between data management for on-premises and cloud infrastructures.
Nutanix-focused backupper HYCU has a new Global Partner Program. There are two primary partner levels – Authorized and Premier. Authorized is intended for new partners as they start to build their business with HYCU. The Premier Partner Level is intended for partners that commit to $50,000 of HYCU products and support revenue annually. There's also a Global Solution Provider Level for partners that have a global presence. More info here.
MiniTool, the maker of MiniTool Partition Wizard, Power Data Recovery and other products, has released its latest backup software – MiniTool ShadowMaker.
Splice Machine announced a partnership with ZEROCODE Technology, a software reseller with a geographic focus in China. It allows businesses and developers in China to use Splice Machine's scale-out SQL RDBMS, data warehouse and machine-learning platform in one to power intelligent, predictive applications.
Supermicro has joined the Board of Storage Networking Industry Associate (SNIA) as a voting member. It said it will bring additional perspective to the SNIA standards development in the flash, persistent memory, form-factor, storage management, and cloud storage domains.
Live data replicator WANdisco has filed a patent to protect the use of its Distributed Coordination Engine (DConE) – a patented Paxos-based consensus technology – to resolve issues associated with public blockchain technology.
Veeam Backup and Replication v9.5 update 3a is available. It supports vSphere 6.7, vCloud Director 9.1, Windows Server 1803 and Windows 10 April 2018 update. ®