Amnesty slaps Google amid crippled censored China search claims
Chocolate Factory kowtows to Middle Kingdom mandarins, according to leaked info
Google is said to be preparing to launch a censored version of its search engine in mainland China, restoring a service it launched in 2006 and discontinued in 2010 in response to an attack on its infrastructure.
According to documents obtained by The Intercept, a censored version of Google Search, dubbed Dragonfly, has been under development since last year and has been accelerated since December 2017 when CEO Sundar Pichai met with a prominent Chinese government official.
Google declined to comment on that possibility. "We provide a number of mobile apps in China, such as Google Translate and Files Go, help Chinese developers, and have made significant investments in Chinese companies like JD.com," a company spokesperson told The Register in an email. "But we don't comment on speculation about future plans."
Human rights advocacy group Amnesty International, meanwhile, condemned the reported policy change and lambasted Google over the plans.
"It will be a dark day for internet freedom if Google has acquiesced to China's extreme censorship rules to gain market access," said Patrick Poon, China researcher at Amnesty International, in a blog post.
"It is impossible to see how such a move is compatible with Google's 'Do the right thing' motto, and we are calling on the company to change course."
Depends what you mean by 'evil'
The admonition "Don't be evil," referred to variously as a motto and manifesto, has been associated with Google since around 2000 and showed up in its pre-IPO prospectus and other documents in 2004. Until earlier this year, it was a part of Google's corporate code of conduct, as the company was reminded whenever it did something controversial.
When Google was reorganized in 2015, its new parent company Alphabet adopted the phrase "Do the right thing." "Don't be evil" remained prominent in the Google code of conduct until an unannounced update, sometime between April and May this year, consigned the language to the very bottom of its paperwork.
What remains of Google's anti-evil commitment, found in the final line of its code of conduct, reads thus: "And remember... don't be evil, and if you see something that you think isn't right – speak up!"
The source who corresponded with The Intercept appears to have done just that, citing moral and ethical concerns about censorship as a rationale for breaking corporate rules about spilling secrets to the press.
Staff get it, do management?
Only two months ago, several thousand employees of the search, ads and cloud infrastructure giant showed similar spine by objecting to the company's involvement in a Defense Department AI initiative known as Project Maven. A petition presented by those workers to withdraw from the project prompted Google to decide not to renew the defense contract once it expires next year.
Reports about Google's desire to reenter China have surfaced periodically over the past few years. According to the BBC, executive chairman Eric Schmidt discussed a return to China in 2015, as did co-founder Sergey Brin. The Alphabet reorganization that year made that possibility easier by giving various business units more independence.
Google is not alone in checking its values at the door to do business in China. Microsoft and Yahoo! made compromises to operate there. Apple, which celebrates its commitment to privacy in the US, yielded to Chinese demands to host the iCloud accounts of Chinese customers on servers located within the country and within the reach of local authorities.
Advocacy groups like Amnesty International and the EFF have sought to hold tech firms like Cisco accountable for supplying and sustaining censorship infrastructure. But not much has come of such efforts.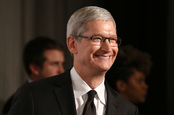 Apple Cook roasted for Chinese app takeaway
READ MORE
Profits before people?
For years, US tech companies have sought government help to allow them to participate in the Chinese market without being complicit in practices that wouldn't be tolerated in the West. As far back as 2006, Google, Microsoft and Yahoo! urged the US government under George W. Bush to treat censorship as a trade barrier and to take action against countries making such demands.
The Computer and Communications Industry Association, a tech trade group, made a similar argument to the Obama administration in 2009. Google chief legal officer David Drummond said as much in 2010.
Fretting about censorship as a trade barrier continues to this day, without much evident effect on Chinese law or policy. Even the bellicose Trump administration, not shy about tariffs, hasn't risen to the defense of tech firms seeking relief from protectionist information rules.
In the absence of intervention, Google and its peers can be expected to keep looking for ways to accommodate Chinese authorities. As far as most stockholders are concerned, that's doing the right thing. ®