Microsoft: We've almost dug Your Phone out behind sofa. But will it make Insiders app-y?
More a 'Droid photo-copier than an iMessage slayer... for now
---
Microsoft gave us a clue yesterday as to the whereabouts of its Your Phone app, demoed to much fanfare during Build 2018 and conspicuously absent ever since.
In an announcement on 7 May, VP of Windows, Joe Belfiore, reckoned the technology would be hitting the Windows Insider program "soon". Three months later, with the announcement of build 17728, Insiders look to be about to get hold of the promised technology. Kind of.
The vision of the Your Phone technology is to allow access to text messages, photos and notifications from an Android or iOS device on a Windows 10 desktop, without having to plug the thing in.
A cynic might suggest that macOS users have enjoyed tight integration with their Apple iThings for quite some time, and Google's Android Messages should take care of the text message functionality while automated cloud upload and synchronisation handles contacts and images quite nicely, thank you.
Microsoft, now lacking a mobile platform of its own, needs to keep users of these devices in the world of Windows. Hence Your Phone.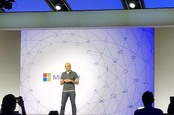 The world is becoming a computer, says CEO of worldwide computer company Microsoft
READ MORE
The initial cut of the app teased in the announcement looks to be quite a bit more limited than that promised by Belfiore, with an initial focus on getting photos off an Android phone and onto the Windows 10 desktop. Microsoft proudly promises users that the days of "emailing yourself photos" are over. Admittedly, those days were already over as soon as a user worked out which way round to plug in a USB cable.
iPhone users don't even see this functionality – they get the ability to send a web page viewed on their device directly to their PC for continued surfing shenanigans. How exactly this differs from the "continue on PC" option in the iOS version of Edge is unclear. Presumably it allows users to continue their avoidance of Microsoft's unloved browser.
Redmond says that more functions are coming soon, and the promised integration of text messages and notification will make this a highly useful addition to the Windows 10 desktop. At least as far as Android is concerned.
Until then, not so much.
As for iOS, The Register will not be holding its breath for the same level of integration. The idea of Apple loosening its grip on its prized messaging platform would have fanbois passing their avocado smoothies through their noses. ®