This article is more than 1 year old
Qualcomm demands blueprints to Intel chips used in Apple iPhones
Enough with the foot-dragging, mobile processor'n'modem giant rails in patent feud
Qualcomm, as part of its patent battle against Apple, claims Intel went back on its word by failing to produce technical documents and code covering how its latest radio frequency components are being used in Apple's 2018 iPhones.
And so, the San Diego, California-based chip designer has filed a motion in its home state to force Intel to hand over what it has supposedly agreed to provide: blueprints detailing Intel's cellular modems used in Apple's latest smartphones.
"After several meet-and-confers and exchanges of written correspondence, on May 18, Intel appeared willing to cooperate, offering a 'limited supplemental production of technical materials relating to relevant components designed for 2018 iPhone models' in exchange for Qualcomm's agreement that the limited production would satisfy certain requests in the document subpoena," the US federal court filing states.
Qualcomm said it agreed to limit the scope of its document demands in return for a speedy and mutually agreeable resolution.
"But Intel went back on its word," the motion states. "Intel failed to produce the material and still has not produced the material two months later." The aggrieved chip biz also complains that Intel refuses to comply with a subpoena seeking deposition testimony about Chipzilla's current RF hardware.
Video testimony
Intel's justification for this, as told in Qualcomm's filing, is that the demand is overly burdensome, in part because some of the people Qualcomm wants to depose reside abroad. Qualcomm countered that testimony could be obtained from afar through the miracle of videoconferencing.
Some background: Apple has been using a mix of Qualcomm and Intel baseband chipsets in its recent iPhones, without any differentiation that would be evident to fans other than Qualcomm-powered handhelds performing better than those with Chipzilla's modems.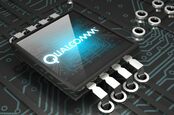 NXP becomes N-nixed-P, Apple snubs Qualcomm modems for Intel chips
READ MORE
In January 2017, Apple sued Qualcomm for $1bn, claiming the Snapdragon chip giant had been overcharging to license its tech patents. The lawsuit came just after the US Federal Trade Commission sued Qualcomm for alleged anticompetitive business practices.
In July 2017, Qualcomm retaliated with a patent claim against Apple in the US and related lawsuits in China, Germany, and the UK. It also asked America's International Trade Commission (ITC) to block the sale of Apple's iPhone, a request Intel objected to in a letter to the ITC in July 2017. Qualcomm then filed a breach of contract complaint against Apple in November that year.
Then, in January 2018, the EU stepped in to fine Qualcomm $1.2bn (€997m) for antitrust violations linked to its technology licensing arrangement with Apple.
None of the parties involved in this legal brawl appear to be inclined to cooperate with demands made by the opposition. In December, the judge hearing the FTC case against Qualcomm imposed a penalty of $25,000 per day on Apple for dragging its feet and not producing requested documents.
Millions of documents
Apple managed to argue its way out of the fine: in February 2018, Judge Lucy Koh, of the US federal district court in northern California, lifted the penalty imposed by Magistrate Judge Nathanael Cousins, who is hearing the FTC case. But to hear Qualcomm tell it, Apple nonetheless has withheld millions of documents it should have produced.
The Southern California-based chip architects claim much the same thing about Intel in their latest legal salvo – a motion to compel Intel to turn over supposedly promised documents filed on Friday and entered into the court record on Tuesday.
Qualcomm said it has an agreement with Intel to use documents turned over as part of its ITC complaint against Apple in its patent lawsuit against Apple. Intel offered some documents but no material related to Apple's 2018 mobile products – such as the sixth-generation iPad released in March.
Apple is expected to unveil new iPhone models later this year. On Qualcomm's earnings call earlier this month, chief financial officer George Davis said the company expected Apple's forthcoming phones would use just Intel cellular modems.
Qualcomm argued Intel should cooperate because there's nothing about Intel's 2018 RF components – the SMARTi7 RF transceiver and the XMM 7560 baseband processor – that remains undisclosed to the public.
Even so, Intel may be hoping to delay document production until September, when the new iPhones debut, as a way to curry favor with Apple. Intel did not immediately respond to a request for comment. ®
PS: Speaking of legal wars, Tesla has been countersued by the whistleblower it accused of sabotage. Martin Tripp is suing for defamation after Tesla allegedly told journalists he had threatened to carry out a mass shooting.