HP Ink splashes out on Brit print provider Apogee
Acquisition-happy services slinger to become inky tentacle of globocorp
HP Inc. has announced that is acquiring UK-based managed print and document services slinger Apogee in a $500m (£380m) deal.
HP Ink's UK profits tumble nearly 85% – of course Brexit to blame
READ MORE
Apogee, which according to its Companies House (PDF) filing clocked up £172.8m in turnover for the year ended 31 December 2017 (up from £111.1m in 2016) , has Managed Print Services (MPS) as well as digital printing, copying and scanning services in the stable.
The company, based in Kent in south England, has offices in Germany and France as well as the UK and Ireland, and staff numbered 824 by the end of 2017.
HP is keen to expand its own MPS through the deal, while continuing to pump out A4 and A3 printers and copiers. In 2016 it hoovered up Samsung's printer business for the best part of $1bn. The Apogee acquisition is somewhat less eye-watering.
The Apogee leadership team, lead by joint CEOs Jason Collins and Robin Stanton-Gleaves, will be left in charge of the HP subsidiary. The Apogee name will also be sticking around as HP seeks to leverage the company's contractual printing services capabilities while not fiddling with its profitability. Apogee filed £52.1m in gross profit last year, up from £29.6m in 2016.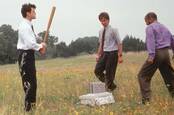 HP Ink buys Samsung's printer business for a BILLION dollars
READ MORE
Back in 2016, Apogee received a cash injection from Equistone Partners Europe that valued the company at £185m.
Since then it has been on somewhat of a spending spree, consuming Scottish printer supplier, Direct Business Systems, in October 2016 followed by Irish outfit, Hibernian Business Solutions in November 2016. City of London and Manchester-based CityDocs got snapped up in December 2016 before Apogee acquired Danwood in March 2017. At the time, Danwood was the largest independent provider of MPS in the UK.
HP plans to allow Apogee to continue its growth, which will involve more UK and EU acquisitions. The deal is expected to close by the end of 2018. ®