This article is more than 1 year old
Amazon, ditch us? But they can't do without us – Oracle
Battle of database rivals fuelled by reports marketplace monster is flying off Big Red
Amazon is reportedly planning to stop relying on cloud rival Oracle's database software entirely by early 2020.
Rumours that Jeff Bezos' firm is attempting to free itself from Big Red have been circling for some time, but according to reports in CNBC today, the end is almost in sight.
The US outlet, citing inside sources, said the marketplace monster had already moved much of its internal infrastructure to AWS and plans to be completely rid of Oracle's database software by the first quarter of 2020.
The article said that some parts of Amazon's shopping businesses still rely on Oracle, but that the full migration is expected to be complete in about 14 to 20 months.
Another source is reported to have said that the firm hasn't developed new technology relying on Big Red's databases for "quite a while".
However, Oracle has disputed similar stories in the past, with CTO Larry Ellison telling analysts in December that Amazon was still paying millions into its coffers.
And in a statement issued today, a spokesperson reiterated this, saying that Amazon had "spent hundreds of million of dollars on Oracle technology" over the years.
"Around a year ago, Amazon spent another $60m to acquire still more Oracle database and data analytics software," the spokesperson said.
"We don't believe that Amazon Web Services has any database technology that comes close to the capabilities of the Oracle database. That's why our biggest competitors like Salesforce.com, SAP, and Amazon continue to rely on the Oracle database to run their business."
There has been no love lost between the two companies over the years – Ellison and AWS boss Andy Jassy regularly exchange barbs over performance in conference keynotes and analyst calls – and of course reports that Amazon has tech that can see off Oracle make for good PR.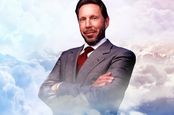 What's going great for Oracle? Cloud. What's not great? Just about everything else
READ MORE
At the same time, though, it's true that Oracle was slower to realise the potential of the cloud, leaving it forced to play catch-up to competitors. It also often comes under fire for the strong-arm tactics it uses to move customers to the cloud.
Although it has reported boosts in cloud revenues over the past few years, Big Red recently announced it was bundling together figures for SaaS, PaaS and IaaS, and for cloud and on-prem licenses.
It claimed the decision not to break down the figures was due to its recent shift to a bring-your-own licence model and customers' increasingly hybrid approach – but the move was widely seen as a tactic to obfuscate its progress in the cloud.
Analysts and investors were not impressed, with the firm's stock falling a few per cent after the announcement.
Amazon Wonga Slurper
Meanwhile, Amazon last month reported a bumper quarter, with much of the profits coming from its AWS division – it accounted for $6.1bn in revenues and $1.64bn in operating income.
Meanwhile, a recent report by JP Morgan analyst Mark Murphy downgraded Oracle, after CIOs reported negative spending intentions towards the firm.
Just 2 per cent of 154 execs surveyed said Oracle was their most integral vendor for cloud computing, while 12 per cent chose Amazon – meanwhile, some 27 per cent named Microsoft, emphasising that cloud isn't a two horse race.
Oracle's share price took a bit of a hit after the report hit, falling as much as 0.7 per cent to a low of $47.18, before recovering slightly.
Amazon did not respond immediately to The Register's request for comment. ®