This article is more than 1 year old
New age discrim row: Accenture, Facebook sued by sales boss for favoring 'new blood'
Bloke hits out after losing job to former underling in his 30s
In January 2016, then-54-year-old Mark Stephens was recruited by Accenture to work as a sales development manager on a project with Facebook, subject to Facebook's approval.
He got the job – and then lost it due to age discrimination, or so he claims in a lawsuit filed against the two companies in Austin, Texas, on Monday.
"I've been an employment lawyer for over twenty years, and I've never seen age discrimination as rampant as it is in the high-tech industry," said Daniel Ross, a partner at Ross Law Group which is representing Stephens, in an email to The Register. "Mr Stephens ran a successful sales program at Accenture for Facebook. Our position is that during that time, my client was told to 'act young' and 'act energetic' when meeting with Facebook management because Facebook thought the previous manager was too old."
As described in his legal complaint, Stephens was advised by Accenture supervisors, in their 50s and 40s, to act young during his interview with Facebook because the social ad company had problems with the age of the previous sales manager.
In February 2016, Stephens began working for Facebook's "Marketing Expert Program" project. He reported to two Facebook employees, one in her 20s, the other age 30 to 40, and was paid by Accenture.
By his own account, he was productive, received no disciplinary action, and Facebook was happy with his performance. In June 2016, Facebook ended that program in Austin, and moved it to Phoenix, Arizona, because it had decided to use a different vendor.
By July 2016, Accenture had found jobs for 27 of the 30 employees working on the Facebook program, but not Stephens, who was placed on "the bench," according to the complaint.
Then in November 2016, Accenture fired Stephens.
'New blood'
In February 2017, one of Stephens's managers at Accenture contacted him to say the Facebook Marketing Expert Program was restarting in Austin. Stephens was told he'd be a good fit, but this time he didn't get hired – his manager told him "Facebook wanted 'new faces,' 'new blood,' and to go in 'a different direction,'" according to the complaint, despite assurances performance was not an issue.
Nine months later, the complaint states, Stephens discovered that Facebook had hired a man in his 30s to lead the Marketing Expert Program, the same man who reported to Stephens when he was in charge. The person hired, the complaint claims, "had no experience managing employees prior to working under Stephens and is substantially less qualified."
"My client was shocked months later when he found out that it was basically the same program and same people working on it," said Ross. "The difference was that the person he had trained, a much younger man who had no management experience, had replaced him."
Stephens is suing Accenture and Facebook under the Age Discrimination in Employment Act, a federal law, and the Texas Commission on Human Rights, a part of the Texas Labor Code.
Recession
Last year, America's Equal Employment Opportunity Commission received 18,376 age discrimination complaints. That's down from a high of 24,582 in 2008, when a major financial crisis and recession began.
Two out of three workers age 45 or older have experienced age discrimination while at work, said age-based advocacy group AARP last week.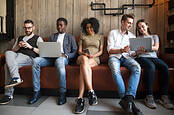 IBM fired me because I'm not a millennial, says axed cloud sales star in age discrim court row
READ MORE
Age discrimination is a particular concern in Silicon Valley, where 43 per cent of workers worry about losing their jobs as a consequence of their age, according to employment resources firm Indeed.com.
Former employees of HP and IBM have made similar age discrimination claims recently. A recent joint report by Mother Jones and ProPublica charged IBM with laying off older workers more frequently than their younger peers.
In May, Facebook was among more than a dozen companies added to a December lawsuit against Amazon.com, Cox Media Group, Cox Communications and T-Mobile US over the alleged use of Facebook ads to weed out older job applicants.
"What makes age discrimination cases particularly damaging is that the older a person is, the harder it is to get a job," said Ross. "What we're trying to do with this and other lawsuits is to reduce and prevent age discrimination in the workplace. The fact is, everyone gets older."
The Register asked Accenture and Facebook to comment. Accenture did not immediately reply. Facebook declined to comment. ®