Be your own YouTube: Cloudflare Stream flies out of beta, emits vids
Web giant sends spare resources into the mines
---
Does the world need another streaming platform? Cloudflare thinks so, and today it set its Cloudflare Stream beta (running for nearly a year) to general availability.
The idea, as CEO Matthew Prince said to The Register, is to take what customers now buy as three products and turn them into one.
Outside the safe embrace of YouTube, setting up a new streaming service means buying encoding/transcoding services, delivery services, and player licences, and each of those are billed differently. Prince said someone wanting to create a platform will find that encoder time is billed according to CPU usage, delivery is billed by bandwidth, and the player by the user base.
Stringing the three services together into a platform is "technically complicated", Prince said, and as a result, "even though video is the future, a remarkably small number of providers" is available, and there are "only a thousand companies that do it at any scale".
Enter Cloudflare Stream, under beta test since last September, and now going into general availability, which is billed on one metric only: the number of minutes streamed.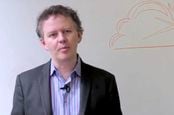 Cloudflare: We dumped Daily Stormer not because they're Nazis but because they said we love Nazis
READ MORE
The entry-level price is $1.00 per 1,000 minutes streamed, with volume discounts available.
Of course, there are upsides for Cloudflare as well: it gets the chance to turn what might be unused resources into something billable, in the encoding and delivery parts of the service.
Service orchestration – rather than new codecs or video server technology – is the special sauce here, said Prince. This means users are able to look at the state of network and compute resources, and assign streaming activities to resources that are under-utilised.
At any given instant, Prince told The Register, Cloudflare has idle compute somewhere in the world (the company didn't forget to remind us that it has got 151 or so data centres globally). When someone uploads a video, it's encoded where there's idle time, turning what might otherwise be a heater into revenue.
The same goes for bandwidth, because the company has a lot of pipes around the world, and Prince said Cloudflare pays not for bandwidth capacity, but bandwidth provisioned.
"There's always always somewhere on Earth that we can deliver bandwidth for free," he said – or at least at an incremental cost that's close to zero.
So if, say, "Richard" hits "play" on a video, that bandwidth is handy to shift content as near to him as possible, at least at the start of the playback.
"The first couple of seconds matters a lot – but once the buffer is full, I can stream from anywhere on Earth and cut the cost of bandwidth," the CEO said.
"The player that's actually rendering the stream is aware of things like how full its buffer is, and where the places are fastest to deliver content, and where the cheapest resources are."
During playback, "the player will dynamically shift between those various places".
For the viewer, it means (hopefully) delivering the highest possible quality, while cutting Cloudflare's costs and improving its margin, he added.
There's another advantage for the content owner that's worth mentioning: control. The creator doesn't have to put their content, data, and branding in the hands of a YouTube or Facebook if they don't want to.
During the beta, Prince said the category that caught his attention most was e-learning, whether it was teaching people "cooking, yoga, programming, or even a better way [to get] through a game". ®