This article is more than 1 year old
The age of hard drives is over as Samsung cranks out consumer QLC SSDs
Chaebol to tease desktop units with up to 4TB later this year
Samsung has started mass production of the world's first QLC (quad-level cell) consumer SSD.
QLC is 4 bits/cell flash technology and a next step in cell bit capacity from the current TLC (3 bits/cell). Foundries belonging to Intel/Micron, SK Hynix and WD/Toshiba have started producing QLC chips and, in some cases, SSDs already. For example, Micron has a 7.68TB QLC SSD called the 5210 ION. SK Hynix has not yet confirmed any QLC technology developments.
Samsung announced a QLC SSD development earlier this month. It has followed that up by saying it is now mass-producing a 4TB QLC consumer SSD.
The device uses 32 x 1Tbit (128GB) 64-layer V-NAND die and does 540MB/sec sequential reads and 520MB/sec sequential writes. Micron's 5210 ION does up to 549MB/sec sequential reads but only up to 340MB/sec sequential writes. Samsung has balanced its sequential read/write performance in comparison.
However, Sammy has not revealed random read and write IOPS numbers, which could mean they are nothing to boast about or that the controller is still being tuned.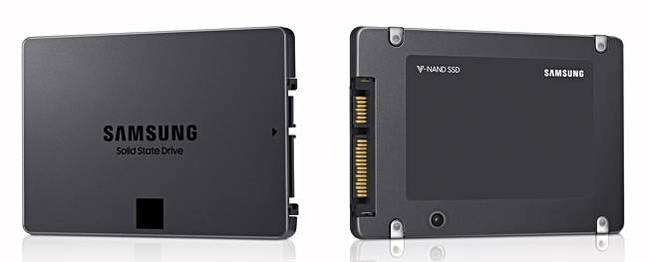 Sammy-supplied 4TB QLC consumer SSD case shots - with no product information labelling
There is a three-year warranty but no lifetime terabytes written rating as yet.
Samsung Electronic's Jaesoo Han, exec veep for memory sales and marketing, proclaimed: "Samsung's new 4-bit SATA SSD will herald a massive move to terabyte-SSDs for consumers. As we expand our lineup across consumer segments and to the enterprise, 4-bit terabyte-SSD products will rapidly spread throughout the entire market."
That may well be the case, but this "product" has no name, no price, no availability, and no detailed IOPS and endurance information, making the announcement possibly a tad premature.
With this QLC tech, Samsung said it will "introduce several 4-bit consumer SSDs later this year with 1TB, 2TB, and 4TB capacities" in the 2.5-inch form factor. We look forward to getting more details then.
Sammy sees itself producing a 128GB memory card for smartphones and M.2 NVMe SSDs for the enterprise later this year and should begin mass production of QLC fifth-generation (96-layer) V-NAND.
That should produce a die with more than 1Tbit capacity, implying 2019 should bring even higher capacity SSDs. The future is not bright for desktop and notebook disk drives. ®