This article is more than 1 year old
Can you hear that? It's the world's smallest violin playing for DXC, IBM and Capgemini
Poor dears report combined £448m drop in UK infrastructure services sales
British businesses and the public sector spent £448m less on infrastructure services (IS) from DXC Technology, IBM and Capgemini in 2017.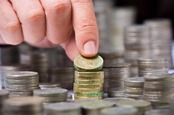 Oh dear, DXC: Outsourcer loses two UK.gov contracts
READ MORE
Frankenfirm DXC was still by far the biggest recipient of IS cash, hauling in £1.61bn in the year, but this was down 9.6 per cent on the prior 12 months, according to figures compiled by TechMarketView.
"After just a year of trading as DXC Technology, it is clear that conditions have got even tougher for the combined CSC/HPE Enterprise Services entity," the venerable analyst said.
"The business is being hit from all angles – not least in Government, where certain large clients are taking the in-source route," it added.
As exclusively revealed by The Register in November, the Department for Work and Pensions decided not to renew several contracts: namely the Hosting and Desktop agreements that had been in place for years. The work is being in-sourced.
That said, the top twenty suppliers of infrastructure services in the UK hardly thrived last year, dropping collectively 0.9 per cent to £11.28bn. Customers are seeking to do things differently including buying cloud services.
Fujitsu was the only top-five ranked business to report growth in the 12 months, up 1.2 per cent to £1.168bn, pushing IBM out of second place and into third.
Big Blue revenue dropped 11.1 per cent to £1.032bn, caused by "certain renewals" – or lack thereof – according to TMV. The analyst branded IBM's performance as "the second worst decline in all of the Top 20".
Atos, in fourth, declined slightly slower than the UK IS average, down 0.6 per cent to £818m. However, the steepest fall was from Capgemini, down a whopping 16.8 per cent to £839m. This was "primarily although not entirely" due to the failing Aspire contract, the analyst said.
TMV described it as an "underwhelming" year for Atos compared to the "renewals and new wins" banked in previous years but was "relatively acceptable versus the top five".
Sneaking into the top 10 for the first time was the tax efficient "Public Cloud machine", AKA Amazon Web Services. The brainchild of Jeff Bezos grew 43.2 per cent to £550m.
"The 2016 launch of the company's London region data centres has clearly paid off," said TMV. "Via various sources we hear of strong uptake in the Public Sector and believe that it could be worth 20 per cent of its business in the UK."
AWS didn't actually open its own bit barn in December of that year, instead it rented rack space off a local provider.
"As the cloud market matures, we've seen an expansion of multi-cloud environments – buyers look for different public clouds to serve different workloads requirements, or where the choice of cloud is being left to individual buyers inside organisations," said TMV.
Some of the decisions are and will be grounded in cost, some by features and functionality, it added.
"One important area is machine intelligence, which for AWS is not just another technology development, but a part of [its] bid to increase its enterprise footprint."
As The Reg revealed first last year, AWS hired Andy Isherwood, a former EMEA boss at HPE, to run its operations in the region and lead the push into commercial enterprises. AWS can be expected to continue its rise up the ranks.
Indian consultancies HCL and Wipro were the others to report double-digit growth in infrastructure services, rising 12 and 16.6 per cent respectively to £560m and £213m. ®