This article is more than 1 year old
Whatever they're putting in Actifio's water, we'd like some too. Sheesh!
Data herding upstart stamps foot on the gas, bags another $100m in funding
Four years after picking up a $100m E-round, data wrangling biz Actifio has picked up another $100m in an F-round.
Its total funding to date stands at $311.5m, with a $1.3bn valuation, making this US biz a standard-issue tech unicorn, according to our records. The latest round was led by Crestline Investors, which was joined by North Bridge Venture Partners, 83North, Advanced Technology Ventures, Heritage Group, Andreessen Horowitz, and other existing investors.
Back in the 2014 E-round days, Actifio's valuation was $1.1bn. It was rumored to be preparing for an IPO, and was expecting to achieve a $100m annual revenue run-rate that year. The IPO never happened and, in four years, its valuation has increased by just $200m. Somehow, somewhere, it ran out of steam.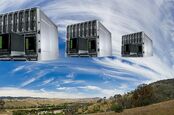 Actifio adds replication tool to its data copy Swiss army knife
READ MORE
But that stumble has been addressed, and founding CEO Ash Ashutosh is still the chief executive. Actifio says it now has more than 3,000 customers, which is ten times higher than the 300 or so enterprise customers it claimed in 2014.
They include five of top 20 global financials, four of the top 10 energy companies, three of the top 10 healthcare providers, six of the top 10 service providers, and four of the top 20 global retail organizations, it is claimed. Impressive work.
In 2014 it said its total addressable market was $44bn. Now it says that figure is $50bn. In four years its target market has grown $6bn, or 13.6 per cent, its customer count ten fold, and its valuation 18.2 per cent. There's good enough business there, and a product-market roadmap strong enough to prize more dollars from its backers.
Actifio now refers to itself as a multi-cloud data-as-a-service company. It's competing with Cohesity, Delphix, and others in the data management space. Can it use this $100m to develop and grow its business from its 3,000-plus customer base, accelerate away from its competitors, and get its revenues and revenue growth rate both up high enough to have another shot at an IPO?
Show us what you can do, Actifio. ®