This article is more than 1 year old
Western Digital develops a new soft spot for the hyper-converged world – a software spot, that is
Touts storage boxes, dreams of code-composable infrastructure
Western Digital is setting out to go beyond hyper-converged kit, and create a software composable server, storage, and networking infrastructure, starting with new flash and disk boxes.
The disk maker hopes the availability of this equipment will encourage the formation of an open-software composable infrastructure (SCI) ecosystem around its technology and open APIs. The elements of this audacious challenge to the established legacy storage order at this point comprises:
NVMe-over-Fabrics-connected OpenFlex hardware:

F3000 proprietary flash drives in quasi 3.5-inch form factor.
E3000 3U enclosure housing ten F3000s.
D3000 1U disk drive enclosure.

OpenFlex architecture.
Kingfish open APIs to orchestrate and manage SCI systems.
OpenFlex ecosystem partners.
F3000 and E3000
The F3000 is an NVMe-connected flash container with a near 3.5-inch drive form-factor. WD says it has up to 61TB of capacity, and sports a pair of 50GbitE ports. We're told there are a number of flash drives inside it, and it can use different types of flash, such as 64-layer TLC (3bits per cell) 3D NAND, or 96-layer QLC (4bits per cell) 3D NAND. It will come with a range of capacities and performance levels.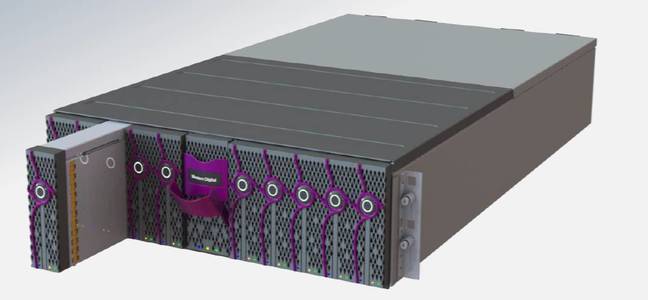 OpenFlex F3000 drives and E3000 box
The E3000 can house ten hot-swappable F3000s. WD wants us to consider it a single flash drive.
D3000
This is a 1U disk drive enclosure with up to 168TB of capacity and two 25GbitE ports.

WD openFlex D3000
The E3000 and D3000 can be fitted into racks as normal. Each unit is an NVMe-over-fabrics endpoint, and represents a fabric device and field-replaceable unit (FRU). WD said it hopes to supply compute options in the future as well.
Kingfish SCI API
WD paints converged infrastructure as a simplification of servers, storage, and networking. Hyper-converged infrastructure integrates the hardware into combined pools of resources, yet generally prevents separate scaling of these three main components.
A software-based composable infrastructure disaggregates these components into separate resource pools that can be independently scaled up or down. Driven by applications and other code that talk via Western Digital's open Kingfish APIs, such a software composable infrastructure should also avoid supplier lock-in, it is claimed.
For WD, the SCI fabric is NVMe-over-fabrics, hence the D3000 having an NVMe-oF interface. The media tier will be, it says, an equal citizen in this SCI scheme It calls its API Kingfish, reckoning it's a follow on from the Redfish server management and Swordfish storage management APIs. Kingfish provides physical and logical-virtual system management. We're told it builds on existing open standards, and that WD is contributing these APIs to the public domain to encourage innovation and market adoption.
WD's ecosystem partners
WD has also rustled up a set of partners supporting the SCI concept and its Kingfish APIs: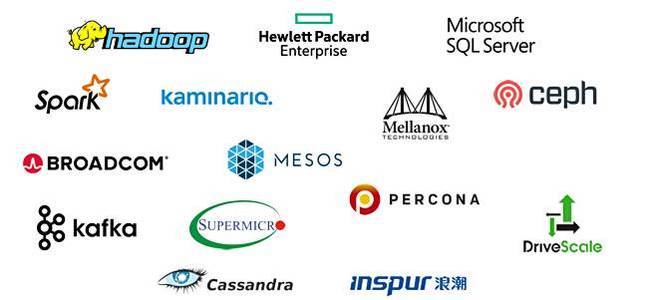 Of this list: Kaminario, which has a composable all-flash array is among them, as is server maker Inspur, and server-storage supplier Supermicro. DriveScale is a composable infrastructure startup. Mellanox provides NVMe-oF Ethernet products while Broadcom, via Brocade, is in the NVMe-over-Fibre-Channel business.
And HPE, of course, has its Synergy composable infrastructure scheme and products.
WD is working with the SNIA to encourage standards so other suppliers can build their own devices that can operate within the Kingfish API-driven SCI scheme.
Competition
WD's ambitions here are huge, however, it is facing competition from Dell EMC, HPE, IBM, and others in this area. This is Western Digital's choice. It decided to build rack-scale disk and flash enclosures quite separate from its Tegile all-flash arrays and ActiveScale archive array products, as well as its newest Serve60 enclosures.
Having decided to do that and look quite far ahead to a post-HCI composable infrastructure future, its decision to go for an open SCI API, Kingfish, is both logical and necessary.
The Kingfish API group of fifteen members is an encouraging start, however, whether this entire WD initiative has legs is a multi-year question. We need more details on the F3000 hardware before we can assess whether this is a justified departure from existing form factors or not.
The OpenFlex F3000 fabric device and OpenFlex E3000 enclosure will be available in the fourth quarter of this year, while the D3000 fabric device will be available in 2019. ®