It's a phone with a peel, but you'll have to wait a bit more for retro Nokia
Meanwhile, fakes fill the banana-shaped void
HMD Global insists its much-delayed Nokia 8110 4G "banana phone" will officially hit UK shelves this month, half a year after it was announced and Amazon began to take orders. In the meantime, imported models and outright fakes have flooded the market.
These aren't hard to find. Newsagents have been selling imported 8110s for several weeks, which may lack the LTE bands used by UK operators. But it's the fakes that buyers really need to be aware of, however.
The counterfeit models lack the Nokia branding and make use of a deprecated OS such as Symbian. Fake 3310s popped up within weeks of the official revival last year, and bogus 8110s began to circulate in the Far East in May almost as quickly this year.
One seller in Halifax offers the rather dubious proposition of "RELOADED 8110 FOR THE ORIGINALS BANANA PHONE 2018 WITH FB,WHATSAPP,DUAL SIM" for £24.99 – far less than the touted £79 for the real thing.
July 4th was originally given as the official UK launch date, but this came and went.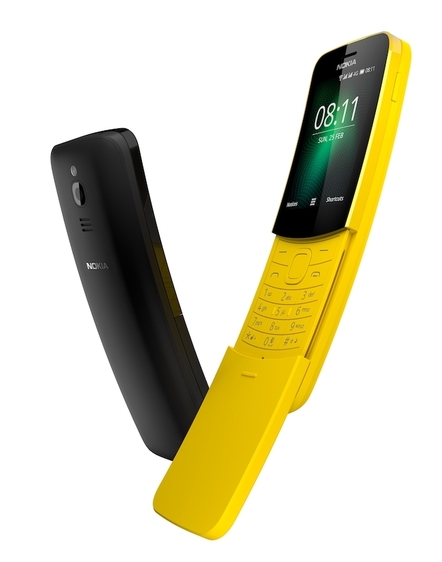 HMD is the first phone maker to bring a KaiOS-based phone to a mature Western market. That's the operating system once known as FireFox OS, and it's capable (in theory) of running richer applications than Nokia's traditional budget feature phones.
Some have attributed the delay to a race to get WhatsApp to work on the phone. WhatsApp is fairly mandatory for the family/youth market targeted here, but it's not yet listed in the new KaiOS app store. We can be sure the official 8110 supports modern standards such as LTE, and VoLTE voice calls.
An HMD spokesman told us that the UK will see the 8110 on 15 August, and promised a more substantial statement later in the week. ®