Is Apple going ease off its HomeKit chokehold? Sure looks like it...
Decision to join Google-y Internet-of-Things-ish Thread Group intrigues
Analysis Apple may have finally concluded that its attempt to force people to use only its technology to control their smart-home automation equipment is doomed to failure.
This week, the computing giant popped up as a member of the Google-led Thread Group, sparking speculation over whether Apple's HomeKit will support the low-power mesh networking protocol.
Up until now, Apple has adopted its typical my-way-or-the-highway approach to smart home technology, even ending up in the ludicrous position where it forced device manufacturers to add a special Apple-specified microcontroller and firmware to their products if they wanted their kit to work with Apple's iThings via HomeKit.
In other words, if you made smart-home stuff, and you want it to be controlled from iOS or macOS, you needed to place Apple-picked electronics in your system. These extra components would perform the cryptography and other operations needed to secure the connection between a person's iPhone, iPad or Mac, and the smart-home equipment. Not a bad way to enforce security, yet not a great way to make friends in the consumer hardware world: virtually no manufacturer was interested.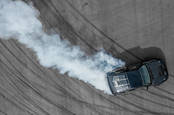 Apple pulls massive HomeKit chip U-turn to keep up with Amazon Echo and Google Home
READ MORE
Apple eventually backtracked on that decision, and implemented authentication through software after the broader smart-home market decided not to bother with what it saw as Cupertino control freakery.
HomeKit still only works over Wi-Fi and Bluetooth, and adoption has been painfully slow. With the smart home market finally showing signs of taking off, it appears Apple has reappraised the situation again, and decided that it needs to be able to work with others' products – or, at least, not force manufacturers to produce special Apple-only versions of their products.
Apple has joined the Thread Group at the highest level – giving it a seat on the board – so it appears to be a serious strategic shift by Silicon Valley's idiot-tax operation rather than just a way to keep tabs on its competitors. We would not be at all surprised to see the Biz finally give HomeKit a proper launch at its annual September product hype-festival.
Adoption rates
Apple has started investing heavily in the smart-home-related products – chasing Amazon and Google's digital assistants with its own HomePod – and, amazingly, it may not be too late to the party given the slow take-up of smart-home gadgetry.
On a bigger scale, the decision may point to the tech industry finally rallying around a single standard for the smart home, rather the painful collection of incompatible protocols that have done as much to stifle consumer demand as fears over security.
Amazon has gone all-in on smart-home tech thanks to the unexpected success of its Alexa voice-guided digital assistant, buying smart-home outfit Ring for a billion dollars earlier this year. Although it doesn't support Thread in its products, Amazon's research group Lab126 is a member of the Thread Group, again suggesting that it is seriously considering adding the protocol to its products.
And, of course, Google – which started the Thread Group along with chip designer Arm in 2014 before opening it up in 2016 – uses the protocol, pushing it into its Nest gizmos.
As such, the stage is set for all the big tech players to agree on a standard that will help everyone in the market interoperate. A critical shift may have been the decision by specialist IoT protocol Zigbee to collaborate with the Thread Group, making them compatible and opening up new possibilities.
Nice threads
Thread is an IP-based networking protocol that creates a low-power wireless mesh. That is critical for two reasons: smart-home devices cannot use a lot of power, and the mesh aspect means that you don't need a special hub to get different products communicating with one another. Hundreds of devices can talk to one another via this approach.
At one point, the majority of smart-home products required their own hub, leading to the ridiculous situation where you would have to plug in and connect multiple different machines to get each system working – none of which would communicate with the others. It was the antithesis of what a smart home is supposed to be.
There are other advantages to Thread: it uses IPv6 – which means it will be forward-compatible as the networking world slowly shifts to the new protocol – and it offers high-level encryption at low power. It also runs over existing IEEE 802.15.4 radio networks.
Apple's decision to join The Thread Group, therefore, is a big plus for pretty much everyone: it means that users of Android or iPhones, owners of Nest or Alexa, and manufacturers of the full range of smart home technology from smart locks to sockets to lights to thermostats, should be able to implement a single solution and communicating with whatever else is already in someone's home.
We have asked Apple for an explanation of its decision, and any information on possible future products. We've even asked – yet again – to attend its September launch event where we guess it will announce a new HomeKit approach. We will let you know if the frosty folks at Cupertino thaw out enough to talk to us. ®