Nearly half of IBM's $1bn Aussie framework deal comes from mainframes
Plenty of work for the Z14 plumbers Down Under
---
IBM has scored itself a AU$481m ($357m, £277m) mainframe contract with the Australian Department of Human Services. The revelation that half of a larger mega-deal rests solely on mainframes sheds more light on what's holding up Big Blue's financial position.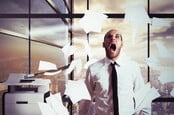 IBM loses mainframe docs down the back of the web, customers cry 'sabotage'
READ MORE
The five-year hardware lease deal will bring the total value of IBM's Aussie gov contracts to AU$2bn, according to a local report, though IBM appears to have only inked $1bn ($742k, £575k) worth of framework contracts so far.
As we reported in July, this deal with the Australian Department of Human Services forms part of a much larger AU$1bn five-year framework deal that Big Blue has inked with the Land Down Under.
Well-known mainframes such as the Z14 form the core of IBM's public-sector contracts in Australia, we are told. Bernstein analyst Tony Sacconaghi commented in July that "100 per cent" of the chunk of IBM's reported sales that beat his predictions came from mainframes, unsurprising when one looks at deals like this one.
Nonetheless, in commenting on its results at the time, IBM admitted that "outside of mainframe, revenues were in line to lower than we had modelled".
Big Blue managed to upset lots of greybeards when it accidentally severed web links to its z/OS mainframe documentation a few weeks ago. The company suggested this was a pure SNAFU thanks to internal website changes that seemingly hadn't been planned as well as they should have been. ®