Pics Samsung is allegedly mulling ending its Galaxy Note line, now that almost every smartphone on the planet is larger than the original Note – which was so absurdly large at launch it was dubbed the first "phablet."
Funnily enough, that first Note, with a mere 5.3in touchscreen, is a minnow by today's standards: the Galaxy Note 9, unveiled on Thursday, measures 6.4in.
Killing off the Note brand seems highly unlikely, particularly as it endured the Note 7 debacle with a niche following. And the 9 has niche pricing to match: the "cheaper" of the two Note 9 configurations (128GB flash, 6GB RAM) sets you back $999, the 512GB flash, 8GB RAM version $1,250. Both are available worldwide from August 24.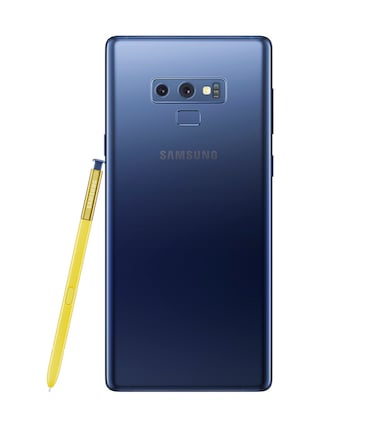 Galaxy Note 9 ... Now with a reasonable battery.
Approximately the same size as last year's Note 8 – the Note 9 is a fraction shorter and a fraction wider – the new flagship has the same dual-12Mp main camera rig found in the Galaxy S9s. But what may have deterred buyers, its inexplicably small battery for a device of this size, has been rectified. At last it matches the Huawei Mate's battery of 4,000mAh. It is non-removable.
In another tweak, the S-Pen supports Bluetooth LE mode for certain functions, as a remote controller for presentations or selfies. Samsung stressed no power is required for the traditional inking functions. With 7nm semiconductor fabrication techniques not quite ready for mass production, Samsung uses its 10nm eight-core Exynos 9810 system-on-chip in EMEA regions, and Qualcomm's 10nm Snapdragon 845 SoC in the Americas and China.
The Exynos 9810 has four 2.7GHz Samsung Mongoose M3 CPU cores for big tasks, and four 1.8GHz Arm Cortex-A55 cores for everything else. The 845 has four 2.8GHz customized Arm Cortex-A75 and four 1.7GHz customized Cortex-A55 CPU cores. The device has a "water carbon cooling system," which spreads and ultimately dissipates heat from the chipset using carbon fiber to, ideally, prevent overheating. Not much more is known about it right now, so we'll take it with a pinch of salt.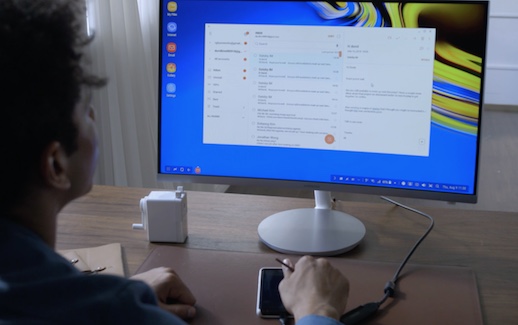 Phone to desktop ... Dex used via a HDMI cable
For professionals and enterprise users, the Note can run in DeX mode via just an HDMI cable, rather than requiring a hefty proprietary dock, as before. This is something Huawei's P20 models can do, too, although the Chinese rival doesn't have the catalog of DeX-ready multimode software that Samsung can boast
Fortnite has come to Android first via the Samsung, in beta form, as from today.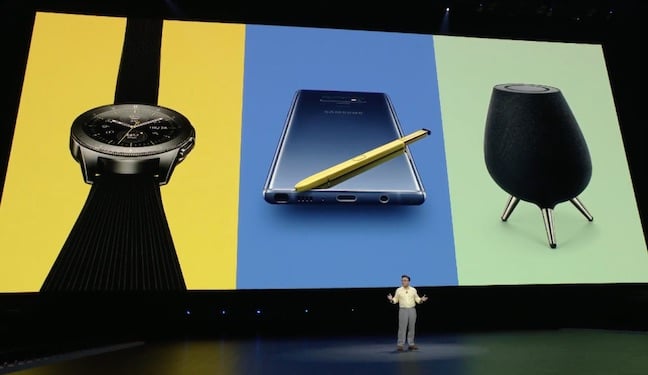 Line up ... Samsung Galaxy Note 9, Galaxy Watch, and Galaxy Home speaker
Perhaps keenly aware that phones don't sell themselves these days, Samsung talked up integration and partnerships. However, it gave us a clue that not everything is quite as joined up as it could be. Spotify was introduced as a strategic partner across all of Samsung's consumer electronics, and will be inserted into the setup process. And Samsung also teased its first Bixby-powered home speaker, Galaxy Home, a distinctive tripod design that resembles a hipster barbecue. But do you think the Bixby personal assistant responds to Spotify commands? Not yet.
Samsung already sells distinctive "smart" speakers, like this one – will Bixby enhance these, dear reader?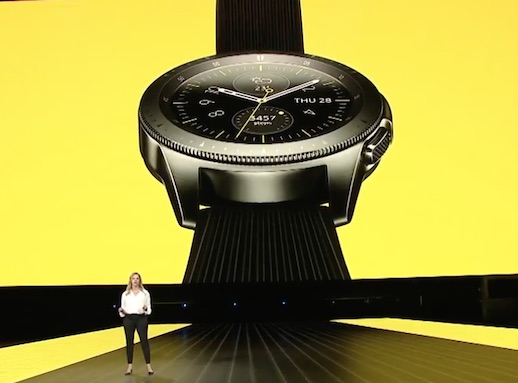 Samsung Galaxy Watch ... Smaller in real life.
Bixby may have negative value for Samsung, says one analyst, as it is "hopelessly outclassed" even by Apple's Siri. Significantly, Samsung touted the audio quality of its three-legged companion, rather than its AI smarts.
Bixby did get a workout, from which we learned that Samsung has been working hard to license and integrate content. Ji Soo Yi, Samsung's veep of AI strategy, pointed out that restaurants could be booked via the voice-controlled assistant without installing Yelp.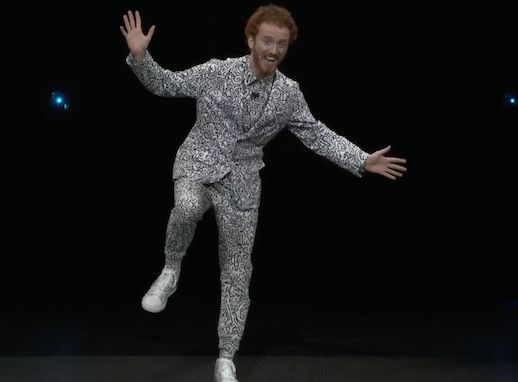 Mr Doodle ... Possibly the man responsible for AI at Samsung
Samsung also breathed some life into its smartwatch, with Galaxy Watch, featuring new silicon for the first time in two years, and a slightly larger display (42mm and 46mm) than before. Like the Apple Watch 3, this will feature an eSIM slot, and for LTE you'll need a cooperating mobile network. Samsung claimed "several days" of battery life should be possible.
You can find more on the Note 9, right here. Here's a summary: it's 161.9 x 76.4 x 8.8mm (6.37 x 3.01 x 0.35in), uses Gorilla Glass 5, takes a nano SIM or hybrid dual nano SIM (one remains on standby), has IP68 protection, has a 6.4in 1440-by-2960-pixel Super AMOLED capacitive touchscreen, runs Android 8.1, takes up to 512GB in its microSD slot, has a headphone jack, and uses USB-C. ®