Can, can, can you buy it, CANCOM? Brexit's made it cheap(er), man: Firm inks OCSL deal
Pre-Brexit bargain to be used as UK hub
Munich-headquartered integrator CANCOM has confirmed to the German stock exchange that it is buying British enterprise tech supplier OCSL for £29m in cash and shares.
Founded in 1990, West Sussex-based OCSL resells hardware and software, hybrid cloud, and managed and consultancy services. It largely works with HPE, Microsoft, Cisco and VMware. The firm hired an investment house last year to seek out buyers, but a buy price might have held up the process, sources told us, and a significant drop in sales won't have helped.
OCSL will be used as the "hub" for the group's UK activities and "establishes a substantial UK-based branch for the international managed services business of CANCOM", the German biz said .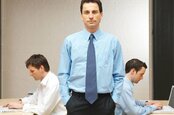 iPad bludgeons to death two UK Apple reseller shops
READ MORE
This is CANCOM's second takeover in the UK this year – it gobbled unified comms specialist Ocean Intelligent in March. Both buys represent a return to the UK for CANCOM, which previously sold Apple kit to UK customers before it sold that business to Trams in 2012.
The timings are impeccable. The UK pound has slumped in value versus the euro, meaning valuations of Brit firms are favourable for overseas buyers. And with Britain set to step out of the European Union in months, CANCOM has a bigger foothold in Europe's second-largest tech market.
OCSL's parent, The Organised Group, will receive £26m in cash and the remainder will be settled by CANCOM issuing 12.5 per cent of the shares of the acquiring UK subsidiary of CANCOM SE to OCSL execs.
In the year ended 31 March, 2017, The Organised Group turned over £85.85m, up 9 per cent on the prior fiscal, and reported profit of £1.03m, up from £620,000. It did business with more than 300 clients. The firm employs around 200 staff.
But according to the press release heralding the sale, revenues had fallen to closer to the £70m mark for the year ended 31 March, 2018. El Reg called OCSL's chairman to talk this through but he did not answer his mobile, and the marketing department must be out celebrating the sale.
As for CANCOM, it turned over (PDF) more than €1.4bn in 2017 andhas almost 3,000 employees.
According to market analyst Megabuyte, the sale "rationale fits what is a clear UK-centric acquisition strategy for CANCOM". ®