This article is more than 1 year old
Intel hands first Optane DIMM to Google, where it'll collect dust until a supporting CPU arrives
Leaked roadmap emerges, still full of holes
+Comment Intel has ceremonially "shipped" its first Optane DIMM to Google, despite no Xeon CPU support.
Navin Shenoy, exec veep and GM of Intel's Data Center Group, theatrically presented the kit, fresh off the production line, to Google platforms veep Bart Sano at Chipzilla's Santa Clara CA headquarters during its Data-Centric Innovation Summit on Wednesday.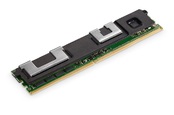 Do Optane's prospects look DIMM? Chip chap has questions for Intel
READ MORE
The carefully stage-managed event is all very well, but generally meaningless while Xeon SP (Skylake) processors don't support Optane DIMMs.
Also many product details are missing, including:
Latency and its effect on DRAM caching
Power consumption and thermal dissipation
Endurance
Pricing
Security and serviceability
Virtualization and multi-tenancy support
Unless Google has customised Xeon processors, its Optane DIMMs are going to sit on a shelf.
Despite this, Intel has been bigging up the performance benefits of Optane DIMMs. Running SAP HANA workloads on early Cascade Lake Xeons with Optane DIMMs apparently reduces restart times from tens of minutes to tens of seconds. Well, great. How often do you have to restart HANA?
Basically we have little performance information about Optane DIMM-boosted applications because the production-class processors aren't even out there to use it.
Anandtech found an Intel HPC roadmap slide which shows processor and DIMM developments: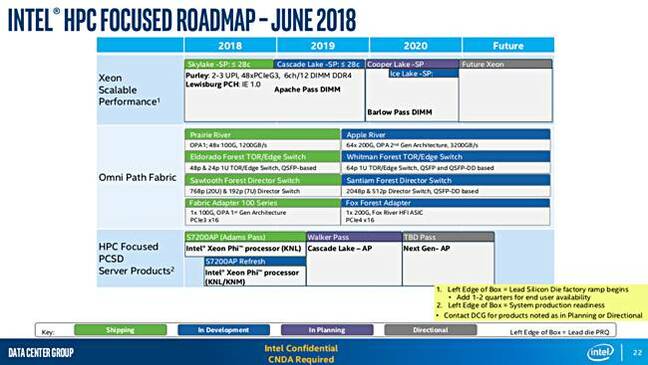 Click to enlarge
This slide shows the Apache Pass DIMM – Intel's code name for its Optane DIMM – shipping in 2019, along with the Cascade Lake Xeon processor.
Cascade Lake is a 14nm process CPU, using the Xeon Skylake's Purley micro-architecture, which features AI-focused Deep Learning Boost (DLBOOST) tech intended to provide an 11x AI performance boost over Xeon Skylake.
The slide also shows a Cooper Lake CPU, also using 14nm technology, with shipping starting at the end of 2019 and going through 2020, where it overlaps Ice Lake, Intel's long-delayed 10nm process CPU. A Barlow Pass DIMM is shown in 2020 in the Xeon SP table row as well.
The slide's bottom row, labelled HPC focused PCSD Server products, shows a Walker Pass DIMM in 2019/2020 and a to-be-decided DIMM in 2020/2021. Walker Pass is timed with a Cascade Lake advanced processor.
Anandtech speculated that Barlow Pass is a next-generation 3D XPoint DIMM. Its attributes compared to the current Apache Pass XPoint DIMM are not known
Our sister publication, The Next Platform, said Walker Pass is the "second generation Optane DIMM, and it looks like it is slated for around May 2019".
Going by the slide's timing, Barlow Pass would actually be a third-gen Optane DIMM.
+Comment
We don't see Intel making it easy for AMD processors to support Optane DIMMs. However, now that Micron has separated its XPoint development from Intel's, that could indicate a route for AMD to support XPoint DIMMs, via Micron Quantx DIMMs if (and it's a big if) Micron produces them.
It is clear that general Optane DIMM use has to wait for Intel's Cascade Lake Xeons. Even if Intel ships the first Cascade Lakes by the end of this year, it will be 2019 before server OEMs ship their products, and, most likely, not all Cascade Lake CPUs will support the DIMMs, with Intel rolling out specific variants with that support.
Going by the missing product details – specifically read and write latency, power draw and endurance – we can be fairly confident that (a) current values are not excellent, and (b) Intel is still tuning its Optane DIMMs to get the latencies and power draw down and the endurance levels up.
The Barlow Pass, Walker Pass and mystery DIMMs may well have higher layer counts, and hence capacities, than the current Apache Pass product.
As ever, Intel's Optane product development is a frustrating work in progress and the roadmap slide extends this into 2020 and beyond. ®