This article is more than 1 year old
Disk will eat itself: Flash price crash just around the over-supplied block
Cheaper SSDs could accelerate disk cannibalisation leading to Seagate downturn
Analysis A flash price crash is coming and should increase disk cannibalization rates as SSDs become more affordable.
Objective Analysis' Jim Handy, speaking at last week's Flash Memory Summit, confirmed we are in a flash over-supply situation, and there will be a downward pricing correction, if not collapse, close to the production cost of 64-layer 3D NAND, meaning $0.08/GB in 2019. Handy characterized it as the largest-ever price correction in the history of semiconductor products.
Wells Fargo senior analyst Aaron Rakers, using IDC and DRAMeXchange data, estimated total NAND flash pricing stands today at ~$0.30/GB. Rakers noted Objective Analysis expects a 45 per cent per annum growth in NAND flash capacity shipped.
Some 70 per cent of total industry flash is 3D NAND, with the remainder the older 2D or planar NAND. Handy believed this manufacturing capacity could be migrated to making DRAM instead – and warned this could result in DRAM capacity over-supply in the future.
Deep StorageNet's chief scientist Howard Marks, also speaking at the summit, suggested that a 5x differentiation in $/GB between enterprise SSDs and HDDs should be considered the crossover point to move toward SSD cannibalization.
Rakers noted enterprise SSDs are at a ~3-4x $/GB premium relative to mission-critical HDDs. Meanwhile, enterprise SSDs stand at ~15-17x $/GB premium relative to nearline/high-cap enterprise HDDs.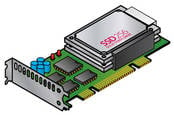 Cheap NAND nasty: Flooding market with chips threatens prices
READ MORE
Recently announced QLC (4bits/cell) SSDs from Intel and Micron are aimed at taking share from nearline disk drives for read-intensive applications.
If Handy's chip price correction prediction is accurate, SSD pricing will go down, too. He said he sees a trend for NAND prices to fall to roughly 25 per cent of their current prices. If SSD prices go down in lock-step, then we are looking at a 75 per cent cost reduction in their prices.
Nearline/hi-cap disk drives cost about $0.031 - $0.042/GB using Amazon numbers for the Toshiba 14TB and Seagate 12TB drives (the Tosh 14TB HDD costs $585 - or $41.795 per TB/$0.042/GB; whereas Seagate's 12TB HDD will set you back $369, or $30.75/TB aka $0.031/GB). Let's average that at $0.0365/GB.
Rakers says enterprise SSDs have a 15-17x premium currently over such drives, implying $0.55/GB to 0.62/GB.
Now let's apply Jim Handy's predicted flash price drop of 75 per cent to these enterprise SSD prices. That then gives us $0.14/GB to $0.15/GB for enterprise SSD prices, giving us a post-price drop enterprise SSD premium of 3.8x to 4.1x our $0.0365 figure, which is still below Marks' 5x threshold.
Logic would then suggest significant cannibalization of nearline/high-cap disk drive sales by SSDs, at least for read-intensive work.
Handy's price correction will take several quarters, leading us to suppose there could be a quite severe contraction in nearline/high-cap disk drive sales over that time and thereafter.
Coincidentally, Mark Delaney, a Goldman Sachs analyst, has said that Seagate's share price, $51.42 (at the time of writing), will reduce to circa $44.00 and downgraded the stock from neutral to "sell".
He has a $44 price target on the stock, believing that "HDDs [hard disk drives] remain a cyclical industry, and one facing secular challenges in many parts of the market from the growth of SSDs [solid-state drives] … NAND is oversupplied and SSD prices are falling (and in some cases pricing is down by as much as 30-40 per cent from the peak."
The bulk of Seagate's revenues come from disk drives, and increasingly nearline/high-cap drives, whereas competitor Western Digital gets more than half of its revenues from flash and is less exposed to a disk downturn.
However, it is more exposed than Seagate to a NAND pricing collapse. Will Seagate's swings slow more than WD's roundabouts? Depending on which part of the world of tech or finance you are in, this could have a very different impact. We'll keep you posted.