Hands On The new Samsung Galaxy Note still has a lot to prove after the last-but-one Note - 2016's Note 7 - kept bursting into flames.
Samsung PR right now pic.twitter.com/siIlUOkKXM

— The Register (@TheRegister) 5 October 2016
Understandably cautious after a recall-and-reissue that didn't solve the problem, last year Samsung made a conservative choice with the follow-up Note 8: equipping it with a battery far smaller than it could have used.
That was a choice at odds with the Note's utilitarian appeal. This is really a workhorse, an estate car (or station wagon) like the Huawei Mate series.
It has fixed that with the Note 9, but this year it's made another cautious choice: pricing it so high that people who'll value what it offers will only really buy it on Expenses.
That's weird, because the appeal should never be greater, at least in theory. What once seemed absurdly large is no larger than a high end premium device, these days. I placed it alongside a Google Pixel 2 XL (see below for comparison) and there's barely any difference. There ought to be, because Samsung's 6.4-inch OLED is greater than Google's 6-inch panel. But Samsung's edge to edge design, and Google's giant bezels, even things out.
And if the market has been softened up by £1,000 iPhones, and flagships costing £800, then you'd think the mass market would be tapping on the Note team's door. Instead, Samsung has just made the Note even more expensive than ever.
What's it like to use?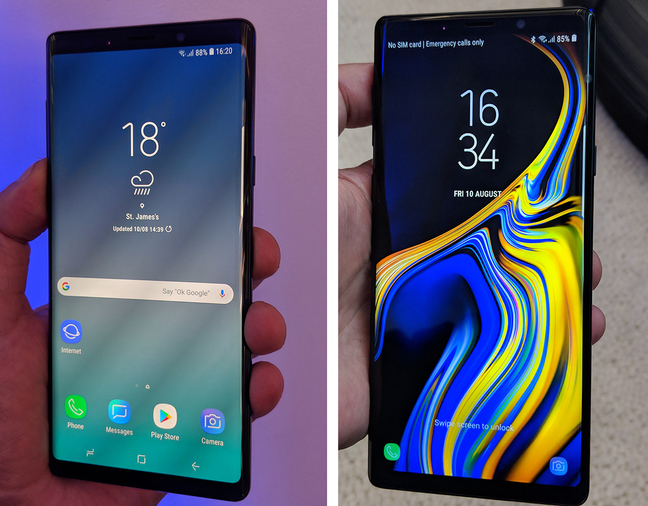 Click to enlarge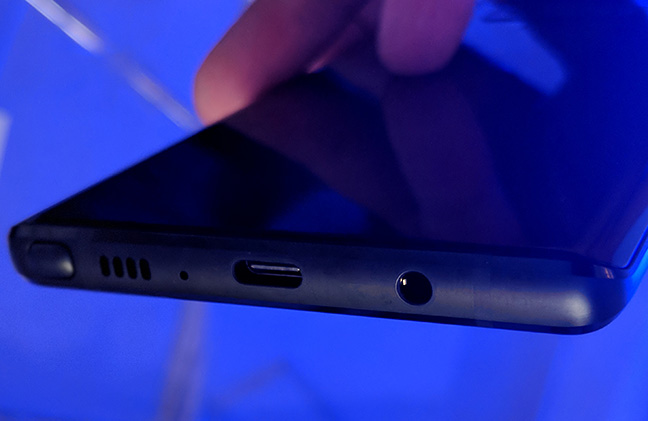 The more I used the Note 9, the more I thought the price was a shame, as it is Samsung's best phone. Even two years ago it seemed large, but as I mentioned, it's just another phone today: exceptionally comfortable. Somewhat obstinately, the fingerprint scanner is still uncomfortably narrow, quite hard to reach, and still interferes with photos sometimes: either by adding an unwanted finger or smudging the imaging unit. It has moved, but not by much, and isn't as reassuring as having a giant disc.
I have no other complaints about a strikingly well made, well balanced phone. The curved glass is no longer a gimmick, it's helped the designers shrink the body to something we can now consider normal.
The device led the industry's charge towards bigger devices but is now no more cumbersome than any other flagship. When Apple launched its Plus size model in response to Samsung in 2014, it felt weird: it was stretched too thin. The Plus hasn't changed and now feels weird because of its massive, archaic clunky bezels. The Note may be boring but it's smart, and there's no showy Notch.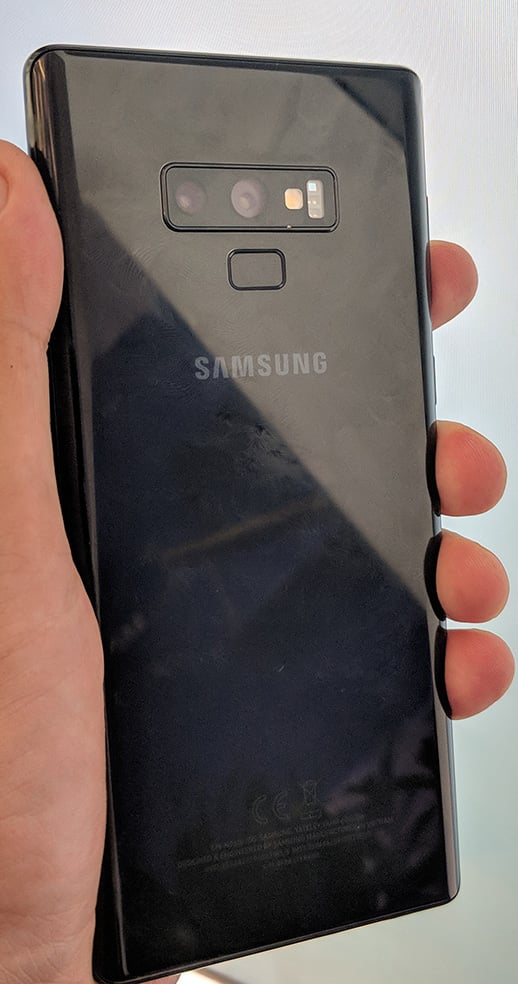 A right royal smudge magnet
So inside it's basically the Galaxy S9+, using the same Exynos chipset (for markets outside North America), with the S9+'s imaging unit. I reviewed that here and found it is excellent, although the camera app which too easily flips you into another mode, or into the selfie camera, was overly fussy.
The Note naturally retains the classic headphone jack – hurrah – surely one of the biggest plus points of the Galaxy's this year.
I didn't have the opportunity to take the 1440 x 2960 OLED panel outdoors, but in studio light it was bright and clear. You'd expect nothing less from the world's main manufacturer of premium OLED phone panels.
The story is the Bluetooth stylus, adding remote clicker functions and out of necessity, a rechargeable battery, to the Note's traditional S-Pen.
The pen retains the capacitive functions - which do not require any battery power – but here I find it's practically limited. Samsung says a 40-second charge gives it an "average" 30-minute charge, but who has to give presentations that are mercifully half an hour or less? That's one more thing to think about. Choose a lengthy slide you can waffle about – put the pen in the phone for a bit – and take it out again. No, I don't see that catching on.
The clicker can be used for selfies (handy for people who take selfies), for music controls and … Samsung is stuck at this point. It has opened up an API for developers, but the main point of the pen is that you use it with the phone so that naturally restricts the number of useful things you could do with a remote.
Overall it's a nice to have that many won't ever use. But then I put the Note's signature feature in that category, too. Inking is nice for quick drawings, like a scribbled map, but even Samsung struggles to find practical uses for it.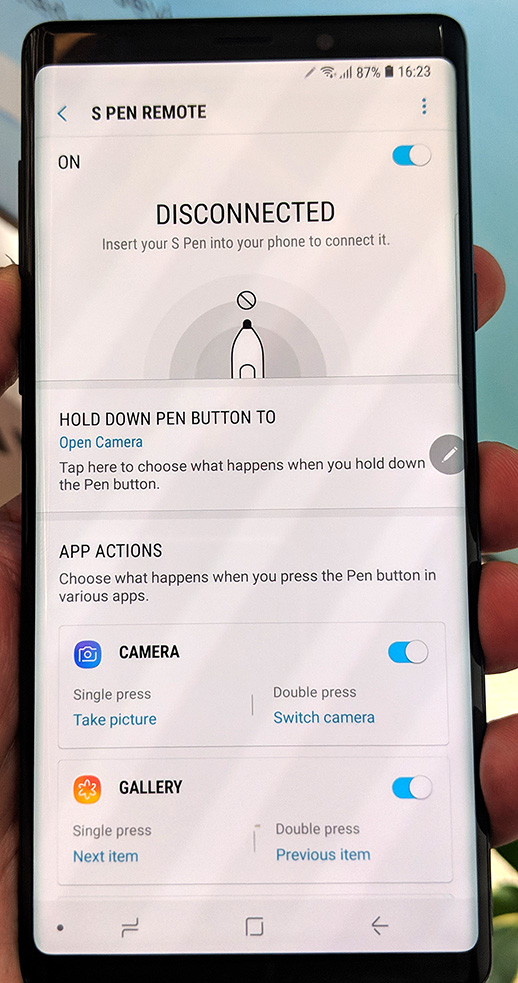 Click to enlarge
More of interest for business buyers – who I think will make up the staple market – is the DeX feature, allowing the phone to be used as a PC and drive a large display, with keyboard and mouse, and "multimode" software that plays nicely in the new environment. I was very impressed with the Version 1.0 last year.
Microsoft walked away from Continuum developer, Google surprisingly failed to incorporate the feature at system level, and Android on PC lacks a strong commercial partner, leaving DeX fairly unchallenged right now.
Well this splendid DeX feature can now be used without a Dock. You just need an HDMI cable (and adapter). This accounts for the larger battery: the DeX Dock charges your phone and a large secondary display will deplete your battery. You may want to get a DeX Dock anyway.
Conclusion
It's obligatory for phone makers to say their new model is the best phone on the market, but there's a strong argument that the Note 9 really is.
While you will find some attractive bundles and offers, Carphone is asking £899 for the "cheaper" (6GB/128GB) model, SIM free on pre-order.
Pricey? I would say so, but Samsung can point out that's really £30 more than the S9+ was at launch, albeit identical in many ways (same chipset, same camera), so £30 extra for a Really Useful stylus, and a smashing, bigger display is a bargain. It might add that it's a better bargain than the flawed iPhone X, and is vastly more expandable. Well. It's a point of view. That's saying it's not pricey within Samsung's own RDF, and not pricey compared to Apple's ludicrous pricing.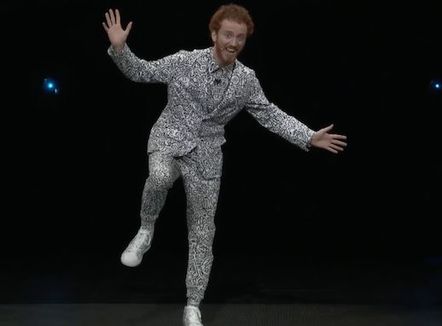 There's another point of view that chief rival, the Huawei Mate 10 Pro does a very fine job and it isn't £300 worse. (The price gap is closer to £400 given the Mate's age.) And with sales of new devices crashing in some European markets - phone makers should be thinking about much more radical things to lure punters back - competing much more aggressively. Like giving away this year's Note in return for a long-term commitment to Samsung's upgrade programme, say.
But I'm guessing Mr Doddle (pictured) doesn't come cheap.
For Android users with expense accounts, the Note 9 is the most complete phone out there, boasting Knox, DeX, a consistently good (if annoying) camera, and that headphone jack. ®
Similar topics