Microsoft has kicked out a build of its Azure Stack on-premise cloud for US government use.
The release extends Microsoft's Azure program for the government into the on-prem market, and gives Redmond one more selling point in its battle with AWS to land the lucrative IT service contracts Uncle Sam regularly hands out.
By releasing the government version of Azure Stack, Microsoft will give federal agencies (as well as state and city governments) the ability to add local cloud installations to their larger Azure Cloud systems.
When Microsoft first announced plans to build Azure Stack for governments earlier this year, use cases for an on-prem Azure cloud would include things like field offices or government embassies where officials would not want sensitive information to be travelling over potentially tapped internet connections.
"Azure Stack for Azure Government directly addresses many other significant challenges our top federal government customers face. This includes tough regulatory, connectivity, and latency requirements," wrote Natalia Mackevicius, Azure Stack program director.
"This is possible because Azure Stack extends the best of our intelligent edge and cloud innovation and delivers those services anywhere in the environment through a hybrid approach."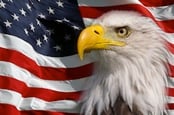 Vid services and big AI appear in Microsoft's government cloud
READ MORE
This past year has seen Microsoft bet big on Azure Government with hopes of landing massive contracts and better competing with Amazon's cloud service. In May, Azure was granted clearance to provide cloud services to 17 US intelligence agencies.
Microsoft has also made no secret it will be among the cloud providers looking to land the Department of Defense's extremely lucrative (and very contentious) JEDI cloud infrastructure program.
The hope at Redmond is that by having a fully hybrid service to offer in Azure, as well as FedRAMP compliance with both Azure and Office365, Microsoft will have an inside track on winning the $10bn deal.
"We know compliance is a priority and a challenge for our government customers and this delivers them a simpler route to meet their mission critical regulatory requirements," said Mackevicius. ®