This article is more than 1 year old
Smells like machine spirit: L' Optane, Unity, NVMe and QLC. Take a sniff of a week in storage
Time to dab your wrists with a little eau de flash
It took a globally and organically sourced supplier base to create the perfume de storage we set before you, distilled from everything worth knowing over the past seven days on this tech news beat.
You can look forward to distilled oils of Unity and SC, zesty DDN and Optane contributions, refined concentrates of QLC flash, subtle infusions of SSD rulers and more.
Attala proves RocE NVMe over standard Ethernet
NVMe over Fabrics (NVMe-oF) provides direct-attach SSD access latencies for external, shared flash storage, side stepping Fibre Channel and iSCSI network delays, whereas RoCE provides remote memory access-like speeds across data centre-class Ethernet for NVMe-oF.
But it has a need for the underlying networks to be lossless. Attala Systems said it has enabled its RoCE-based networking capability to operate on standard leaf-spine networks and with ordinary NICs. It claimed to have achieved this by hardening the open-source SoftRoCE initiator, its own devices and providing SSDP-based discovery.
The kit allows cross-rack and ubiquitous deployment of NVMe-oRoCE's low latency and high performance on Ethernet networks at speeds from 10GbitE to 100GbitE and beyond.
CEO Taufik Ma said: "NVMe over RoCE has always been seen as the lowest latency, highest performance flavor of NVMe protocols. However, NVMe over RoCE's need for lossless networks and specialized initiators has been somewhat of a limitation to its deployment."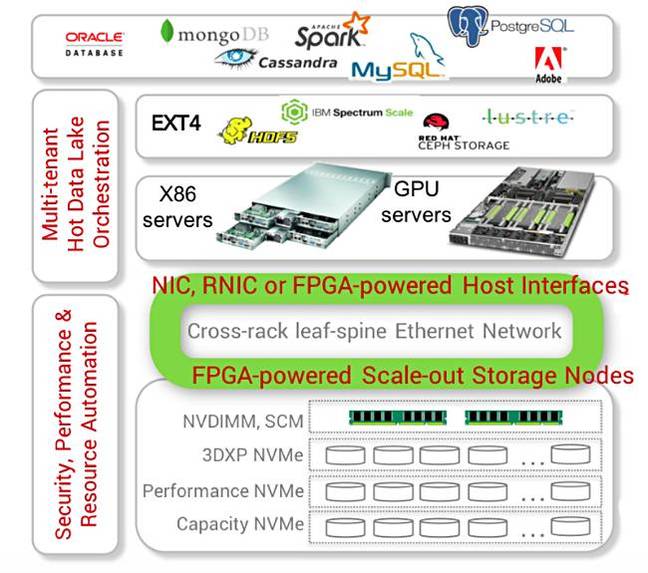 Attala's scheme
Attala apparently hardens the open-source SoftRoCE initiator driver and its own devices to handle packet-drops in a L3 leaf-spine networks.
The system includes an autonomous Simple Service Discovery Protocol (SSDP) based discovery mechanism for newly added end-points.
The community-hardened open-source SoftRoCE initiator driver runs on any NIC, enabling compatibility with any Linux-based host server across the data centre.
We look forward to hearing what customers say.
Dell EMC SC and Unity array software updates
Dell EMC has pushed out SCOS v7.3, which it said has higher performance and larger capacity, as well as a new Unisphere HTML5 interface and data-in-place upgrade capabilities.
Customers will see up to 2.2M max IOPS per array, and over 20M in federated multi-array environments. There is a 2X increase in maximum IOPS across every current SC array model, with 50,000-100,000 more mixed-workload IOPS across every SC array.
Unisphere for SC HTML5 Web UI automates common storage management tasks.
The 7.3 update provides:
Up to 2X increase in maximum capacity per array,
Data-in-place upgrades for the popular SC4020 offers an option for customers to migrate data to newer SC models,
SCv2000 can now federate/replicate with other SC Series arrays,
Support for 100GbitE and 25GbitE iSCSI network hardware offers customers future-proof solutions and buying assurance,
Distributed sparing,
Live Volume enhancements.
Dell EMC said its tests showed real-world apps such as VDI and SQL OLTP performing 33 per cent to 54 per cent faster with SCOS 7.3 than with its previous software version.
Unity OE v4.4 boosts replication and data mobility and security capabilities for block and file workloads. There is Metrosync array-based file replication to protect transactional file applications with rapid recovery and automated failover to a secondary data centre.
Synchronous and asynchronous block and file replication options are now included with every Unity system and built-in data mobility capabilities migrate block data from third-party storage arrays directly to Dell EMC Unity.
There are LDAP/AD enhancements for performance, availability, and search flexibility for Microsoft environments, Dell EMC said.
Dell EMC said that, as part of the software built into both Unity and SC Series all-flash and hybrid storage arrays, customers can upgrade their operating system "non-disruptively" and that there wouldn't be an extra cost for customers with active ProSupport agreements.
Dell EMC Unity OE 4.4 and SC Series SCOS 7.3 are available now as no-cost software upgrades for customers with an active Dell ProSupport agreement.
DDN sets up server virtualization division
Data Direct Networks (DDN) has set up a Server Virtualization, Analytics, VDI, Container and DevOps Division and plans to staff it with 100 new hires by the end of September.
This represents a significant move and investment away from its academic and commercial HPC and enterprise big data analytics base. The new division will focus on helping enterprises get the most value out of their flash, virtualized and containerized hybrid cloud environments
It said dozens of enterprise storage experts from companies such as Tintri, Pure Storage, IBM and Intel had joined already. Recent senior hires include:
Jagan Raghu, former Tintri VP engineering,
Sven Oehme, former IBM elastic storage chief research strategist,
Phil Trickovic, former Tintri VP sales for Americas East Coast, Latin America and Federal
Peter Jones, former Intel director of engineering,
Mark Walsh, former Tintri European operations leader,
Andreas Dilger, former Intel principal engineer,
Graham Breeze, one of Tintri's first employees and field CTO,
Marty Murphy, former Tintri channels leader for the Americas East Coast.
DDN, which recent acquired Intel's Lustre file system business, also entered into an Asset Purchase Agreement with Tintri on July 18, 2018, whereby DDN has offered to acquire substantially all the assets of Tintri, a company offering enterprise cloud infrastructure built on a public-cloud like web services architecture and RESTful APIs.
We'd estimate this would be a multi-million dollar initiative by DDN, which will bring it into competition with general enterprise server system vendors such as Dell, HPE, IBM, NetApp, Nutanix, and others. If the Tintri acquisition goes through then it will have a shared external array product supply and customer base to build on. What it will do with that product technology, in this developing era of QLC flash, NVMe-oF, containerisation, storage-class memory, AI and data management is an intriguing question.
Intel changes data centre SSD naming scheme
Intel is bringing a 5-level naming scheme to its data centre solid state drives, ranging from slow, entry-level drives to high-speed Optane near-memory speed products.
Data centre drives from Intel are currently branded as SSD DC P4000 and SSD DC P3000 products with Optane-based ones called Optane SSD DC P4000. There are also SSD DC S4000 and SSD DC S3000 products. It's a bit of a mess.
Anandtech revealed a slide showing the new scheme: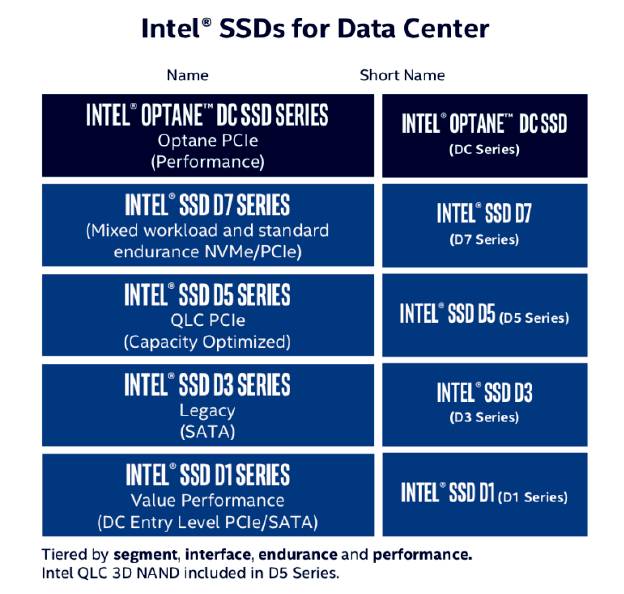 The DC P4000, P3000, S4000 and S3000 scheme is transitioning to a D1, D3, D5, D7 Series with a separate Optane DC SS Series.
The entry level products will use SATA and PCIe interfaces and be called SSD D1 Series products, D1 Series for short.
The D3 Series will be SATA interface products for mixed workloads, and two exist already: the D3-S4610 (240GB to 3.84TB) and D3-S4510 (240GB to 3.84TB.)
The D5 Series products will be capacity-optimised, using QLC (4bits/cell) flash and NVMe interfaces, and aimed at read-intensive workloads. Intel has just announced the D5-P4320, with 7.68TB of QLC flash capacity, using 64-layer 3D NAND.
D7 Series products will be for mixed workloads and use TLC (3bits/cell) flash with an NVMe interface.
We have heard that instead of having a D9 Series performance tier for 3D XPoint-based Optane products, there will be an Optane DC SSD Series, which Intel intends to refer to as its DC Series, but which is bound to become the Optane series of products, unless and until some other solid state technology base is used alongside Optane 3D XPoint.
NGD in-situ at Flash Memory Summit wins best-of-show award
NGD, which makes in-situ computational processing storage drives, has won a best-of-show award at the Flash Memory Summit.
The product aims to solve the issues associated with moving petabytes of data from storage devices into server RAM for processing by embedding processing capabilities within storage devices such as SSDs, computational storage can eliminate the need for this data movement.
The result can reduce the time to process a petabyte of data to a few second for highly parallel, read-intensive analytic applications.
Quest Software's QuorStor update
Quest Software has extended the current set of backup software supported by its QuorStor Version 5.0 to include Quest NetVault, Quest vRanger, Veeam, Veritas NetBackup, Veritas Backup Exec, Commvault, IBM Spectrum Protect (TSM), Dell EMC Networker, Micro Focus Data Protector, ArcServe, Oracle RMAN, and SQL Server 2016.
"By utilising our protocol accelerators, RDA (Quest Rapid Data Access), OST (Veritas Open Storage Technology) and our Rapid accelerators for CIFS and NFS QoreStor can provide source side deduplication that can accelerate overall backup performance, minimising network traffic and reducing [the] time [it] take[s] to backup data," it said.
"We take a full variable block sliding window technology and enhance it, QoreStor adds a content-aware algorithm to its variable-size chunking. The algorithm identifies patterns in the data — in spite of the shifting that results from additions or deletions in the data stream — then align the block start- and endpoints to duplicate chunks, while identifying only the changed chunks as unique."
It said QuorStor "can be run on premise[s] on a hardware-based solution, in a virtual machine or in the cloud. As it can be installed in the cloud and you can back up directly to it if desired or replicate (optimised) to it from another instance."
SSD Ruler standardisation
The EDSFF organisation has standardised short and long and 3-inch ruler form factors for SSDs, with specs available from the SNIA.
EDSFF stands for Enterprise and Data centre SSD Form Factor and there is an EDSFF working group. The idea is to move away from 2.5-inch and 3.5-inch disk-bay sizes for SSDs, which now come in these sizes as well as M.2 gumstick cards and PCIe add-in card (AIC) formats. There will be, instead, longer and thinner devices, the so-called rulers, which can provide 1PB of capacity in a 1U server, using 64-layer, TLC 3D NAND.
The results will be more capacity in less space, leading to denser storage and server systems and less wasted space.
Suppliers involved in the EDSFF initiative include SSD makers Intel, Micron, Samsung, Toshiba and Western Digital, and server suppliers Dell EMC, HPE and Lenovo, which augers well for wide industry adoption and the unification of the differing Intel and Samsung ruler formats.
There are short and long ruler standards with 9.5mm and 18mm widths.
The short ruler is 5.9mm thick, 111.49mm long and 31.5mm wide.
The long ruler can be 9.5mm or 18mm thick, 318.75mm long and 38.4mm wide.
An Intel slide shows its EDSFF plans: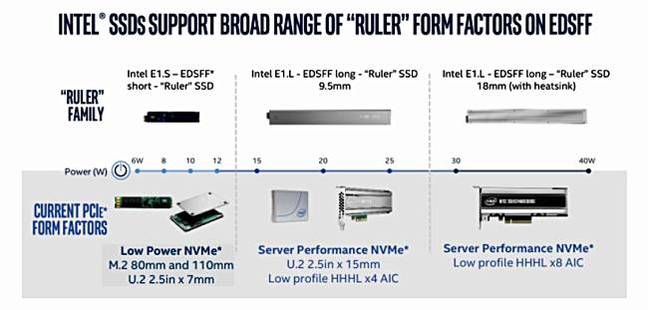 The EDSFF is also working on a 3-inch form factor that is 76mm (3 inches) wide. This format has two thicknesses and two lengths: 7.5mm or 16.8mm thick and either 104.9mm or 142.2mm long.
You can download the format specs here.
Will we see 5bits/cell flash?
We have SLC (1bit/cell), MLC (2bits/cell), TLC (3 bits/cell) and now QLC (4 bits/cell) NAND. Each time a bit is added to a cell, the NAND access speed and its endurance (program, erase cycles) go down. QLC flash looks to have about 2500 PE cycles, with a god controller and over-provisioning.
Objective Analysis' Jim Handy said: "It seems like it takes longer and longer to go from one number of level to the next, so I have no hopes that 5 bits will ever be put into production.
"There's also the problem of diminishing returns. From SLC to MLC you save 50 per cent, from MLC to TLC saves you 30 per cent. TLC to QLC saves you about 20 per cent. Going to 5 levels would get an even slimmer reward.
"But then, those geniuses in the back room keep pulling rabbits out of their hats, so I can't bring myself to say 'Never!'
"There was a company in the 1990s called Information Storage Devices (ISD, later acquired by Winbond) that made sound recorder chips that stored voltages in flash cells that were supposedly accurate to within 1 per cent. That's better than 6 bits. Maybe it can be done! I certainly don't know of anyone who's talking about it, though."
He mentioned a FMS panellist, IBM's Jung H Yoon, who said that 5-bit cells were a possible option for future extensions of flash.
People
Carbon nanotube memory developer Nantero has appointed ex-Micron exec Ed Doller to its board of directors. He's been a member of its Advisory Board since 2015.
Nexsan has appointed Mark Walker as channel sales director for UK and Ireland. He comes from Kaminario where he established the UK and Ireland channel. Prior to that, Walker spent many years in storage distribution.
Scality has hired Greg DiFraia for the new role of Field CTO. He was previously with Dell EMC, most recently in the role of CTO of Elastic Cloud Storage.
Shorts
Data protector Acronis has announced a strategic partnership with Microsoft for deeper integration of Acronis's data protection products with Microsoft's Azure cloud services.
ATTO Technology said One Stop Systems (OSS), a provider of high performance computing (HPC) GPU accelerators and NVMe flash arrays, has introduced an ATTO Celerity 32Gbit/s Fibre Channel option for the OSS Ion Accelerator 5.0 Flash Storage Array product line.
Kaminario is expanding its certified hardware stack for the NVMe-based K2.N storage platform, with support for AIC, Celestica, Mellanox, Seagate and Supermicro.
WekaIO Matrix is qualified to run with the kdb+ database in AWS EC2.
A disk drive using Seagate's MACH.2 Multi Actuator technology has demonstrated up to 480MB/s sustained throughput, a record for disk data streaming. Seagate said this is 60 per cent more than a single-headed 15K drive. Its engineers have also transferred data from a single HAMR read/write head transferring data for 6,000 hours reliably, meaning 3.2PB. The company's Exos disk drives will use both HAMR and multi-actuator technology in the future, probably both in 2019.
Virtual Instruments has inked a joint reselling partnership with SANBlaze Technologies centred on bringing NVMe workload modelling and analytics to both enterprise IT and technology vendors, which includes integrations between the WorkloadWisdom and SANBlaze VirtuaLUN products. ®