This article is more than 1 year old
Vodafone's spending pays off - but EE hangs on to UK network crown
EE by gum, BT Group brand wins
EE is being strongly challenged by rival networks that have improved their reliability, and in some cases their data performance too.
Network performance monitor Rootmetrics' nationwide survey for the first half of 2018 placed EE top in the five main categories - as it always has. But more interestingly – now that network sleuths are paying less attention to raw data speeds – some interesting trends have emerged.
EE hasn't been budged from the Rootmetrics ranking for five years. But despite coming bottom for data performance (taking the wooden spoon from O2), Hutchison's 3 has continued to improve its call score and reliability, coming a close second to the BT-owned behemoth. Hutchinson's Three UK ranked second in overall performance, network reliability, call performance, and text performance. Data performance is where Three fell down, and Vodafone saw the benefits of investment moving into second place in the Rootmetrics scores.
The proprietary ranking was calculated from drive testing along some 32,200km (20,000 miles) of road, and included indoor coverage. On trains, it's more a case of where you go rather than who you're with.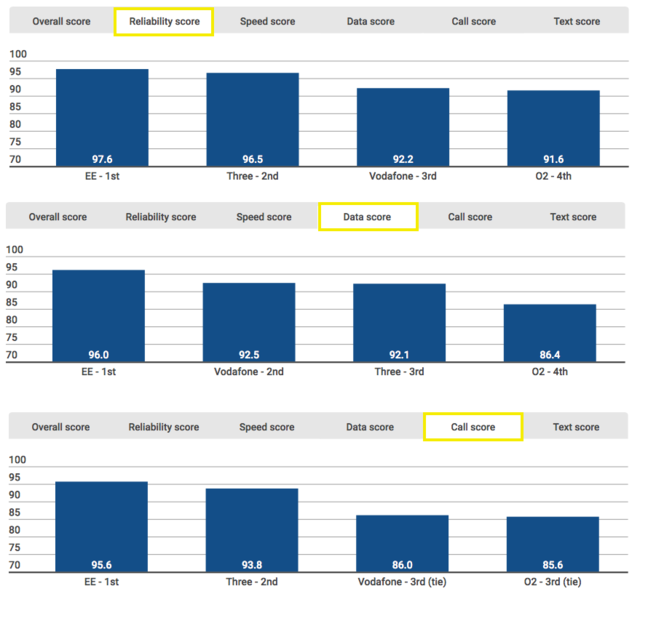 Click to enlarge
O2 bagged the wooden spoon in every category ranked by RootMetrics, but it has begun to use new spectrum won at auction to improve its traditionally lacklustre data performance. Three's poor performance in the capital was offset by stronger performance in the regions, for example the North East.
We asked Kevin Hasley, head of product at RootMetrics, to account for the trends.
"Quite simply, Vodafone is deploying more LTE spectrum and seem to have more spectral efficiencies resulting in an increase in data improvements," he told us. These have come at the expense of Three in the comparative rankings.
"Three has scored worst for data this time around versus previous National report. Three's ranking for data performance declined from second in second-half 2017 testing to third this time. Three's lower rank in the data category corresponded with improvements from Vodafone."
Telefónica and Vodafone struck a mast-sharing arrangement Cornerstone (aka CTIL) in 2012, with regions divided geographically: Vodafone taking up sites in the west of the UK and Wales, and O2 in the east plus Northern Ireland. London was divvied up with O2 investing in sites north of the river, and Voda in the south. But this was revised last year. In London, a surge in demand means the two giants share sites but not much more, and the result has been improved coverage and performance in London.
Vodafone's network improvements have borne fruit this year - it offers the best round-trip packet time, for example.
"Three's UK-wide results were generally strong across the majority of our test categories, with second-place finishes for overall performance, network reliability, call performance, and text performance. 1H 2018 national results marks the first time in our last two test periods that Three didn't earn a share of the UK Call RootScore Award. Three's ranking in the call category fell from a two-way tie for first in second-half 2017 testing to second in the first half of 2018.  Three's drop in the call category was due to improvements from EE," noted Hasley. ®