Updated It has taken the best part of a year, but from today Microsoft fans can talk to Cortana through the vaguely creepy ears of Amazon's Echo devices and vice versa.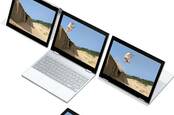 Windows is coming to Chromebooks… with Google's blessing
READ MORE
Originally announced last August, with a tentative delivery date towards the end of last year, the tie-up was intended to give Amazon users access to functionality such as Cortana's Office 365 integration, while allowing Cortana users (if using a multiple is appropriate) to leverage the Echo's impressive smart home integration and do a bit of shopping.
Things have been remarkably quiet since then.
In today's announcement Microsoft bravely suggests that just as users need different people to service cars or offer financial advice, they could use two different digital assistants to manage work and home, while also needing them to collaborate.
Via some slightly awkward syntax ("Alexa, open Cortana!") users can enable the skill on their Echo device and set up access to their Microsoft account. A similar process does the same thing on Cortana, except for the user's Amazon account.
The feature, as is frustratingly the norm, is US-only at present and doesn't yet allow music to be streamed or alarms to be set. Microsoft and Amazon are also seeking feedback from users of the early preview to refine the experience or, possibly, to quietly shelve it. After all, the advent of Alexa for Business means that Microsoft likely needs Amazon more than the other way around.
The Register has contacted Microsoft to find out when the world outside of America can experience the joy of ignoring Cortana through an Echo device the same way they do now on a Windows 10 PC, and will update if a response is forthcoming.
Updated
Microsoft contacted us post publication of this article with a statement that is, er, worthy of inclusion:
"Currently this experience is available in the US. We look forward to expanding to additional markets in the future. We have nothing further to share at this time." ®