A Marvell co-founder's cloud edge firm appears to have thrown its hat in the personal NAS ring with its Wi-Fi-connected Amber product.

Latticework was founded in 2014 by Dr Pantas Sutardja, a co-founder of Marvell and an ex-CTO of that company. Co-incidentally Western Digital's MyCloud personal NAS product uses Marvell controllers.
It appears the box's main superiority over a home NAS product is cloud security. The firm claimed other "solutions rely on public third-party clouds" while its customers' data would be "yours and yours alone".
Amber is about the size of a smallish home speaker - think Sonos One - and contains (tech specs) an Intel Core Duo Gemini Lake CPU (1.1GHz - 2.6 GHz), a built-in AC2600 Wi-Fi Router, and a pair of 1TB disk drives in a mirrored (RAID 1) configuration. Maximum capacity is 4TB.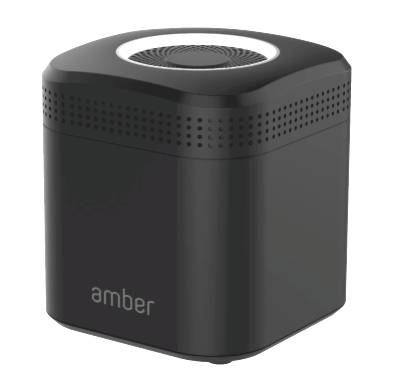 Latticework's Amber product.
It has a WAN and HDMI ports, a pair of LAN ports and two USB-3 ports.
Mac and Windows notebooks/desktops and IoS/Android smartphones/tablets run a LiFE app which can automatically send picture images, music, videos and other files to the Amber box. It can stream videos to TVs and be accessed remotely to do things with files, such as stream them to TVs or share them.
Latticework said Amber streams videos with no buffering and photos can be facially indexed. There is no storage of data in third-party clouds and a proprietary LattisNet cloud service is used only for user ID management and data routing verification.
The product reminds us of Connected Data's Transporter box for businesses, which also provides private cloud file-sharing.
The Amber product costs $399.99 with a time-limited discount from $549.99 and is only available in the US.
The product is said to perform better if it is installed in front of a home router, rather than behind it. The FAQ stated: "Being behind another router could in some cases make for poorer connection when connecting from the outside."
Western Digital's MyCloud personal NAS runs up to 20TB in capacity, five times larger. It has pretty much the same feature set. A 2TB My Cloud Home has a promo price of $139.99, discounted from $159.99.
Is the Amber product worth $260 more? What do you think? ®