Cisco shift to recurring revenue gives 3.8 billion signs that it's working
Customer interest in hybrid cloud buoys networking biz
---
Switch and comms kit biz Cisco reported $12.8bn revenue for its fiscal 2018 fourth quarter, a six per cent increase that is a bit more than than analysts expected.
CEO and chairman Chuck Robbins celebrated the highest quarterly figure ever for the company, calling it a very strong finish to a great year.
"Our results demonstrate a combination of strong customer adoption of our latest innovations, the ongoing value customers see in our software and subscription offerings, and excellent execution across our customer segments and geographies," he said in a statement and during the company's earnings call.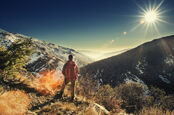 Four-year switch: Two Cisco veeps pack bags and go for a wander
READ MORE
Cisco last year said it "is on a multi-year journey to transform the way we monetize software," by which it signaled its intention to focus on growing subscription-based recurring revenue more than one-off sales.
Net income hit $3.8bn, which translates to earnings per share of $0.81 (GAAP), which is about a cent more on average than finance gurus anticipated. Non-GAAP EPS was up 15 per cent year over year.
Of the company's total revenue for the quarter, 32 per cent was recurring, which is up 1 per cent from the same quarter a year ago. Product revenue was up 7 per cent and service revenue was up 3 per cent.
In terms of growth by segment, security rose up 12 per cent, applications increased 10 per cent and infrastructure platforms grew 7 per cent.
For its full 2018 fiscal year, the results were as follows:
Revenue: $49.3 billion (+3 per cent year-over-year)
Earnings per Share: GAAP: $0.02; Non-GAAP: $2.60 (+9 per cent year-over-year)
GAAP results include a $10.4 billion charge following from the Tax Cuts and Jobs Acts
Robbins called out the performance of the company's Catalyst 9000 switch, calling it the fastest ramping product the company has ever built. He said there were about 9650 customers using it at the end of the quarter.
"Our record results demonstrate the strength of our business," he said.
For its fiscal 2019, Cisco anticipates revenue growth ranging from 5 per cent to 7 per cent. ®