Sales of tablets fell 10 per cent in Western Europe during calendar Q2 to a mere 6.3m units, according to abacus stroker IDC
To put that into context, IDC told us smartphone shipments in the same region in Q2 were 27.2M units, despite a decline of 4.5 per cent year-on-year.
The analyst counts Microsoft Surface PCs as tablets, but not monochrome Amazon Kindle e-readers, although Kindle Fire tablets make the cut, analyst Liam Hall told us. To qualify, a device must have a 7 to 15 inch display and use an LCD or OLED screen technology, he said.
IDC blames higher prices and a lack of innovation for stagnating sales.
"As the market has become increasingly dominated by Apple and Microsoft, and consequently more premium-focused, the range of options available to more price-constrained customers has diminished, leading them to consider cheaper alternatives such as lower end convertibles or even traditional PCs," IDC noted.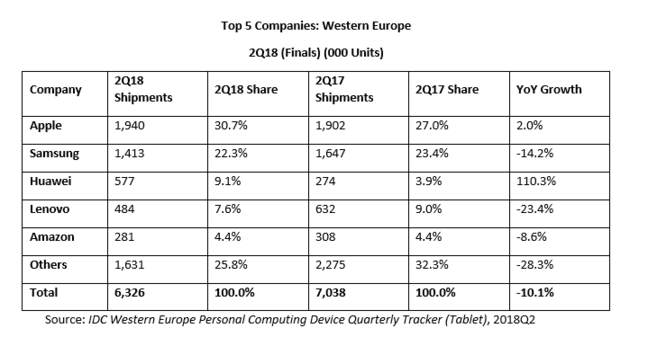 Click to enlarge
Apple, which revived its high-end iPads, and only refreshed its cheaper models this year, grew two per cent to 1.94m units, and accounted for 30.7 per cent of the total tab market in Western Europe. In second spot, Samsung nursed a sales decline of 14.2 per cent to 1.41m unit, leaving it with 22.3 per cent market share.
Huawei slid into third on the back of a 110 per cent sales spike to 577,000 tabs, giving it a 9.1 per cent share of the spoils. Lenovo was shoved into fourth - sales droped 23.4 per cent to 484,000, meaning it had a 7.6 per cent slice of the market. Amazon remained in fifth as shipments fell 8.6 per cent to 281,000 units.
Detachables fared worse as a sub-category tablets: declining 23.3 per cent year on year.
That might change as Microsoft's aggressively priced Surface Go hit the high street last week, in time for the 'back to school' season. ®