Florida Man laundered money for Reveton ransomware. Then Microsoft hired him
Former network engineer gets 18 months in the clink
A former Microsoft network engineer will be spending a sojourn behind bars after pleading guilty to conspiracy to commit money laundering.
Raymond Odigie Uadiale was this week given an 18-month sentence and three years supervised release – after he agreed to a plea deal that saw him cop to a conspiracy charge in exchange for a second count of substantive money laundering being dropped.
The 41-year-old Uadiale had been charged in the Southern Florida US District court for his role in the Reveton ransomware operation. Posing as a combination of ransomware and scareware, Reveton presented itself as a piece of law enforcement software, telling the user they had downloaded "illegal material" and demanding the payment of a "fine" in order to restore access.
"This was a sophisticated scheme to conceal the proceeds of a particularly insidious type of ransomware," said US Attorney Benjamin Greenberg on Monday.
"By claiming to originate from law enforcement agencies, Reveton not only victimized computer users, it also exploited the agencies in whose names the ransomware claimed to be acting."
Uadiale, who was a student at Florida International University at the time the crimes occurred in 2012 and 2013, was said to have received payments from victims in the form of prepaid debit cards. Then, using the Liberty Reserve digital currency, he transferred the plundered money into accounts controlled by himself and a co-conspirator, an unnamed distributor in the UK.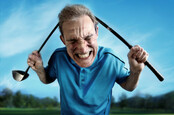 Oh, fore putt's sake: Golf org PGA bunkered up by ransomware attack just days before tournament
READ MORE
Prosecutors estimate that, over the course of the scheme, Uadiale moved around $93,640 in ransom payouts.
"By cashing out and then laundering victim payments, Raymond Uadiale played an essential role in an international criminal operation that victimized unsuspecting Americans by infecting their computers with malicious ransomware," said assistant US Attorney General Brian Benczkowski.
"This conviction and sentence is another demonstration of the Department of Justice's commitment to prosecuting cybercriminals and shutting down the networks they use to launder their criminal proceeds."
During the lull that came between committing the crime and getting indicted for the crime, Uadiale occupied himself by moving to Washington state and getting a job with Microsoft as a network engineer. At the time he was indicted, Uadiale was living in the Seattle suburb of Maple Valley.
Microsoft has no comment on the case. ®