This article is more than 1 year old
Datrium shifts disasters up the Amazon: Adds DR in AWS for on-prem kit
Locks out 3rd party DRaaS folk with VM-centric cloud stuff
Datrium has introduced disaster-recovery-as-a-service to its existing on-premises DVX system.
The new disaster recovery (DR) scheme backs up VMware server system data to Cloud DVX in AWS. If the on-premises DVX/VMware system fails, then a VMware Cloud on AWS is the failover DR site and CloudShift keeps that pre-seeded with data (from DVX in an AWS backup site) and ready to run.
The scheme uses a software-defined data centre in AWS with on-demand instance pricing. The firm claimed this was cheaper than standard two-site DR with synchronous replication.
The first of the components involved is DVX on-premises – a system involving servers with array controller agent software sharing external DVX storage arrays. Ordinary HCI systems converge the storage array with the servers.
VMware runs on this Datrium DVX, with Datrium software running in vSphere as a vSphere Installation Bundle for data services, and there's a scalable disk shelf for data protection.
The second component is Cloud DVX, a cloud-native instance of DVX software in the AWS cloud, running on EC2 and S3. On-premises DVX systems back up their changed data on a SaaS basis to this cloud, using replication and global deduplication.
CloudShift, meanwhile, which was introduced this week, provides DRaaS by failing over from a failed DVX site to a VMware Cloud in AWS. It orchestrates and instruments DRaaS for VMware Cloud on AWS.
Datrium said this DVX is server-powered storage, running on VMware servers with local flash, with capacity and backup offloaded to an external highly resilient data recipient (Cloud DVX and CloudShift).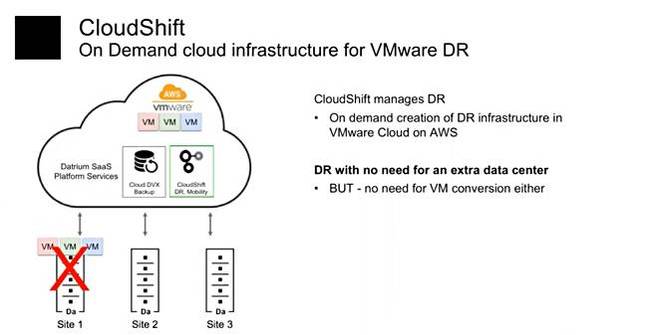 Datrium CloudShift DR failover.
It appears that it can provide a low RPO (Recovery Point Objective) because the data sent to the cloud is changed at the local site which is globally deduped, minimising bandwidth needs and enabling Datrium software to keep backups and VMs up to date and ready to run when a failover is needed.
The RPO could be achieved in minutes, the firm claimed, by using DVX primary snaps of VM protection groups.
Datrium said that it is partnering with VMware to leverage VMware Cloud on AWS for Elastic Cloud Compute (EC2). Resources in VMware Cloud on AWS may be consumed on-demand for the duration of a test or actual DR event, it said.
CloudShift provides a single console for resources and runbooks, and is virtual machine-centric so there are no abstractions such as LUNs to manage.
Datrium said that VMware Cloud on AWS is a software-defined data centre, with vSphere, VSAN, NSX and vCenter components.
Thus, if the DR site becomes operational, no VM-level conversions to AWS-format VMs (for example) would be needed.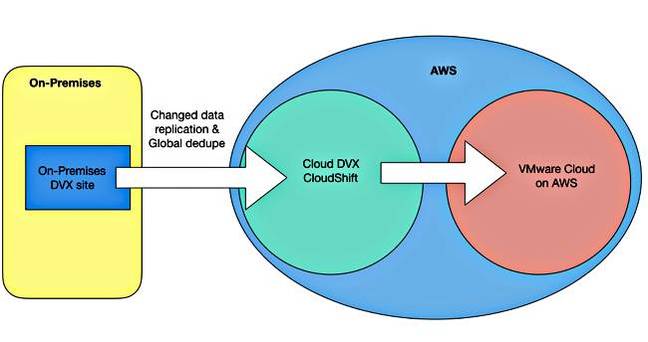 Datrium DVX and CloudShift DRaaS scheme.
The DRaaS product supports on-premises-to-cloud, cloud-to-cloud, and on-premises-to-on-premises DR schemes.
Datrium CloudShift will be available in the first half of 2019. There's a product brief here (PDF). ®